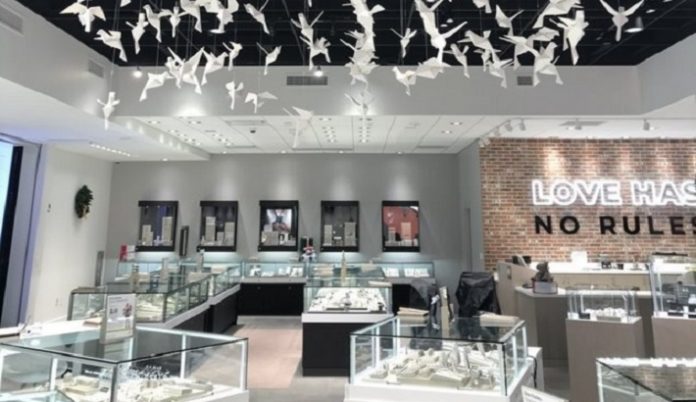 Jared, in collaboration with James Allen, has opened a concept store in Frederick, Maryland. The retailer said the new format "provides an updated environment that is aṆ significant, yet welcome, departure from a traditional jewelry store."
These updates include a more tactile experience for those shopping for bridal jewelry. The store has a hands-on product experience that encourages customers to "touch and try on" at the James Allen Gathering Table. This includes a wide range of engagement ring samples, stone replicas and settings.
While the space includes traditional case displays for browsing, each case opens in the front allowing customers to walk around the display for a full view from all angles.
In addition, consultants work side-by-side with buyers rather than from the traditional "behind the case" position.
Bill Brace, CMO of Signet and executive general manager of Jared, said the new store, which includes a Jared Coffee bar, creates "a new and richer experience for our customers and create a modern environment for jewelry shopping."
News Source: idexonline