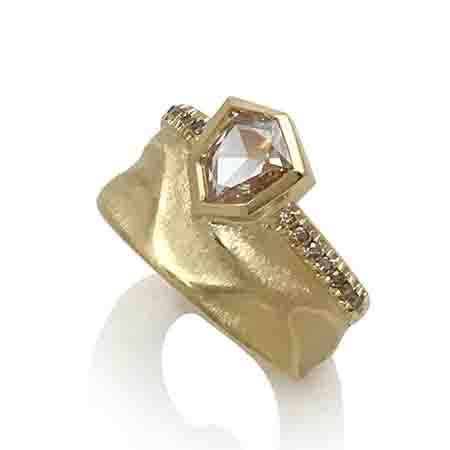 Keiko Mita's Crown ring isn't for shrinking violets! With a fancy-shape champagne-color diamond fixed atop a sturdy sandblast-finished band, the piece can't go unnoticed—nor should it! The silhouette reminds me of Wonder Woman's headpiece, but in a glorious display of diamonds instead of colored foil (Lynda Carter was robbed). It's whimsical yet serious because of its materials, and could make any woman feel like a superhero.
Crown ring in 18k yellow gold with a 0.85 ct. fancy-shape, rose-cut champagne-color diamond and 0.21 ct. t.w. diamonds, $4,140
The Style 360 blog is your editorial source for the newest jewelry, trends, fashion, market analysis, trade show insights, designer's profiles, and more.
News Source : JCKOnline.com