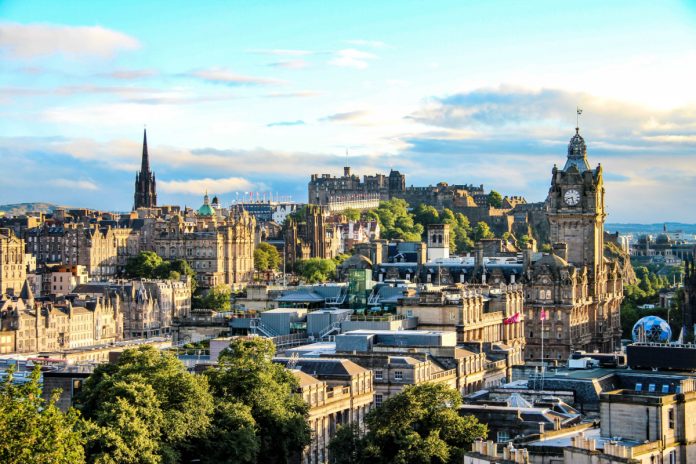 One doesn't have to spend much time in Edinburgh to understand why the colourful cosmopolitan city is one of the most popular in the UK. In fact, Scotland's capital is reported to enjoy the second highest amount of international tourists after London, and a recent poll by a national newspaper named it as the reader's favourite place to visit in Great Britain.
With bags of history and stunning views running alongside a modern high street and vibrant nightlife, Edinburgh is a place where the past and present collide in beautiful harmony. Furthermore, from the end of June through to early September, the city reels through one festival after another, with Edinburgh Festival Fringe, the world's largest arts event, taking place for the whole month of August.
It was during Fringe that Professional Jeweller landed in the city to meet the jewellery retailers which reside on the high street.
Before visiting, it was evident that Edinburgh is somewhere special for the industry. Not only does it boast of independent jewellers who have been trading successfully in the city for years, it's also the home of impressive flagships for multiple retailers, including Chisholm Hunter, which opened its doors to an £8 three-storey boutique in a prime central location this year.
So for those who have not visited, let me paint a picture for you of the city centre. Running on an almost American-style grid system, Edinburgh has three dominant shopping streets running parallel to each other.
Starting with the road furthest from Edinburgh Castle, George Street is home to three highly respectable jewellers — Hamilton & Inches, which has been based in the same location since 1952, Laing Edinburgh, which moved from Frederick Street a year and a half ago to open the doors to a £1.7m contemporary flagship, and ROX Jewellers, which offers a charming and modern boutique in the historical Assembly Rooms Building. George Street also comprises high-end high street luxury retailers such as L K Bennett, Aspinal of London and Hobbs.
The next road along, Rose Street, is home to the independent retailers and restaurants in the city. Wedged between George Street and Princes Street, both known for high footfall and nationally-recognised businesses, Rose Street holds its own with a unique selection of boutiques for visitors to enjoy. Among those are a handful of jewellers including Alistir Wood Tait Antique & Fine Jewellery, Daniel Henderson Jewellers and Robert Anthony Jewellers to name but a few.
Last but not least, Princes Street is home to the high street chains and jewellery multiples. Here shoppers can enjoy the likes of Debenhams, Boots and Primark, as well as jewellery retailers Swarovski, Thomas Sabo, Chisholm Hunter, Fraser Hart and Ernest Jones, whilst admiring a striking view of Edinburgh Castle and taking in a glimpse of the hilly Old City.
While there are other areas for shopping, George Street, Rose Street and Princes Street are the big three and where most jewellers can be found. Others such as Joseph Bonnar are a stone's throw away, and the Sheila Fleet Gallery, which is the designer's only one outside of Orkney, is located in St Stephen Street — an area just about a ten minute walk from the main shopping district, which hosts an array of interesting independents and charity shops.
From our whistle stop tour, it is clear to see Edinburgh is a place where multiples and independents can trade hand in hand along the high street, and jewellers are not afraid to be in an environment where competition is mighty.
Business in Edinburgh
The question is, why do so many jewellers decide to trade in Edinburgh? While for many the companies' roots are in the country, and they are rich in heritage and have been trading in the city for a long time, it's also because Scotland's capital has a lot to offer retail businesses.
First of all, Edinburgh is a fast growing city and many locals in the area work for financial, legal, political or tech companies, so there is a wealth of consumer spend to go around. Moreover, those who live in the city also make very loyal customers and jewellers residing in the city are not short of domestic clientele.
"As the capital city of Scotland, Edinburgh offers a huge wealth of opportunities," explains ROX managing director Kyron Keogh. "With a local population of half million people, it offers a strong domestic customer base for us within the region. Edinburgh is also the finance capital of Scotland with a strong professional services sector."
"Edinburgh is a fast growing place and deceptively wealthy," adds Macintyres managing director, Stephen Turner, when discussing the reason he chose Edinburgh as the place to open his first jewellery store. "It's got a small population but most people are fairly middle class and work for banks, insurance companies, and the university, which makes it very conservative, and we felt there was a big opportunity here."
Furthermore, Edinburgh is also Scotland's most visited city, welcoming over three million tourists each year, which offers the chance for jewellers to capture consumers from all corners of the world.
Laing Edinburgh chairman, Michael Laing, says of the destination: "Edinburgh as a city is a fabulous city. It's got a nice mix between local business and tourism. In the city as a whole, employment is particularly good and it is a lovely city to live."
"Customers are very discerning," Laing continues, adding: "Because of the nature of employment in the city, which tends to be government and finance, the general purchasing style is not particularly bling, but it's quality. Quality is appreciated. They know about the brands."
"Edinburgh is a major tourist city, which is great, there are always overseas visitors," says Joseph Bonnar, owner of the eponymous store which focuses on period and antique jewellery. "American visitors have always been popular. We get American clientele 12 months of the year because a surprising number are of Scottish routes and we have the biggest stock on antique Scottish jewellery on the market."
During the month-long Edinburgh Festival Fringe, hundreds of thousands flock to the city to soak up the creative atmosphere.
Now in its 70th year, 3,000 shows take place during Fringe Festival, and areas of the city are taken over by pop-up stages, market stalls, street food vans, temporary cocktail bars and more.
During the festival a hub of activity also happens in the shopping districts, especially George and Princes Street, but while some businesses may get annoyed by the distraction, the jewellers in Edinburgh embrace the bustling season.
"It's like a second Christmas for Edinburgh," says Keogh of the festival. "The Fringe brings millions of visitors to the city – nearly 2.5 million tickets were sold last year – so it's an incredibly busy and important time for us."
To gear up for the festival ROX embarks on a focussed advertising campaign online, outdoors and in print, which is then amplified with lots of social media activity.
"Our George Street location at the Assembly Rooms is bang in the heart of the Festival which is perfect for experiencing the events happening out on the street too," Keogh explains. "From a brand development and marketing perspective it's very important we activate throughout this period and bring the Festival into our boutique. In the past, we've had Capital Radio broadcast their Festival Show for a week from the store and we've hosted a ROX pop-up stage to promote new and upcoming talent."
This year ROX hosted a Fringe Party for its VIP clients and partners. The night included music, cocktails and comedy in the boutique.
Elsewhere, fashion jewellery brand Thomas Sabo adorned its windows with a 'Happy 70th' display, and visual merchandising motifs which paid tribute to the arts, while in a month where creative consumers are likely to walk by, Joseph Bonnar showcased his most unique antique and period pieces.
Bonnar comments: "All year round we concentrate on old jewellery, but we tend to put in some unique items for the festival. A lot of people who come during the festival tend to be international cultured people, so they are not going to look at standard goods. So we stock the windows with more unique items such as historical goods and goods with a remarkable provenance."
Hamilton & Inches participation during Fringe varies each year, with this time round the jeweller opting to showcase its craftsman outside the store front (weather permitting).
Across the road at Laing Edinburgh, the jeweller did not host a Fringe-specific party, but embraced the festivities by hosting a number of in-store events during the month.
"We have a number of events at this time," explains store owner, Michael Laing. "As a company we do a lot of events in store and we like to bring people in. It's all about building relationship because Edinburgh is on a smaller scale and it does feel like community."
"What we did a number of years ago is we changed our attitude to events, instead of just having people to the store for a glass of wine and a bit of cheese, we wanted to make them have more of a wow factor and a bit of novelty and be memorable, so people want to talk about them," Laing continues. "We work on the bases that word of mouth is one of the best forms of marketing."
Overall as a city, the jewellers do not seem to be facing any extra challenges due to location. As a whole, business is good, and certainly when Professional Jeweller visited each store had customers flying through the doors.
The main challenges would be keeping footfall good in all the shopping areas, with some commenting that Princes Street enjoys a higher amount of visitors. To combat this, jewellers on George Street are making sure this particular road remains the luxury shopping destination in Edinburgh, while Rose Street will always have the advantage of consumers going out of their way to find shops which only exist on this road.
The other challenge is to make sure each jeweller stands out from its competition, which is hard to do when there are so many around, but upon visiting every store truly did have its own niche and point of difference.
To give you a few examples, Sheila Fleet Gallery mainly stocks the designer's full collection of jewellery, including her bestselling silver ranges and gold and diamond options. While the brand's designs can also be found at a dedicated concession in Jenners, the boutique has a more extensive selection and is a go-to place for fans of the designer's jewellery.
Elsewhere, Joseph Bonnar is the only jeweller in the city to focus on antique and period jewellery, and compared to other stores in the city, as soon as you walk through the doors you are greeted with a kaleidoscope of colour in the form of a vast array of gemstones.
Moving more central, in Rose Street independent jewellery retailer Daniel Henderson stands out with its unique designs and relaxed approach to selling.
"In Edinburgh we've got one of the biggest concentrations of high level jewellers out of anywhere in the UK really, so serious high competition," explains owner of the namesake store, Daniel Henderson. "So I definitely thought about what am I going to do? Why should people come to me? Obviously design is one thing. I want to do things that aren't available in other places, but then environment wise and how I deal with customers is important too. I get to know my clients and people like it. They mention it to me that it is such a nice experience coming in and in other places they've felt a bit intimidated."
"What I wanted to do when I opened was I wanted to bring something that is a little bit different. Obviously I am a smaller store and so I tend to deal with a lot of the clients myself, personally. So real personal contact is what I wanted and a more relaxed environment. I wanted to get away from the feeling of being confronted by somebody who looks like an accountant, and there is a total market for that, but it has never really been me. So I wanted to create an environment where I can get to know the customer and they get to know us, and it is a bit more friendly regardless what they are spending. I find when people are relaxed you get to know them better, and subsequently, you get in a better position to service what they need."
At Hamilton & Inches, which celebrated its 150th anniversary in the city last year, its workshops are a major USP for the jeweller. Hamilton & Inches works hard to nurture talents and provide a place for people to work at a bench, train with professionals, and explore opportunities of jewellery-making.
"We are creating silver on the premises, we are creating jewellery, we are repairing watches and we are valuing jewellery," explains Hamilton & Inches marketing manager, Shonagh Massie. "It's that idea of nurturing talent to see what has been a 150 year old heritage continued and not to compromise on that. We are trying to bring people into the building who are talented, and then give them responsibility and see where they go."
When it comes to not compromising, Hamilton & Inches is very committed to sticking to its roots and values. "There is a real passion about our industry within these walls and it generates a level of trust," explains Massie, adding: "We are not selling low value products. They are quality and beautiful pieces sold at fair prices. People are shopping in a much faster way, there is a higher rate of consumers and the market places are much quicker, and we've steadfastly said from the beginning Hamilton & Inches was built on customer service, and built on craftsmanship, and we have held onto that and I think that is why we are different and why people continue to come."
Massie continues: "The jewellery industry as a whole is never going to really respond entirely to that fast pace way of selling, but I think we are sitting back and saying, 'no, this is who we are and this is what we do'. At HI we are holding on to our values and wanting people to sit down. If a sale takes 10 mins, that's wonderful, if it takes an hour, that's wonderful too, because it is an hour long relationship we have with people."
These are just a handful examples of the differences between the jewellers on Edinburgh high street. However, each and every store has its own personality, from the interior on the walls, to its approach to selling and customer service.
Another thing that really stood out about the jewellery retailers in Edinburgh is the emphasis placed on people. Both the people who shop in their stores and the people who make up the jewellers' highly efficient teams.
Firstly, while it is not unusual for jewellers to say that word of mouth is the best form of marketing, in Edinburgh this seems to ring true more than anywhere else Professional Jeweller has visited. Each and every jeweller stressed that due to the size of the city, and its community feel, the best way to drive footfall is to be known, recommended and praised.
This goes beyond hoping people will say nice things about the store. It's about being part of the community, being known in the city, and forming relationships with customers outside of the selling setting. Whether that be through going out for dinner with a client, or holding intimate in-store events which clients will remember for a lifetime.
Secondly, the way word of mouth can work practically well is through having an excellent team which is committed to making personal relationships and providing a customer service that goes above and beyond.
Walking into each store it was clear to see strong teams which get on with each other and enjoy getting to know their customers, so it is no surprise that many store owners stressed that their employees are what make the business so successful.
"There is a lot of personality to Hamilton & Inches and I think that is what is really shining through," explains Massie. "The personalities go top to bottom and everyone contributes and everyone creates Hamilton & Inches. It's a building and it's beautiful but it is the people inside making it special. So I think it is that ability to say to people that it is not one person running this business, there is 40 people in here and they are all playing their part and there are certain people who are creating that point of difference. There is such a unique family feeling about it and like I say, it is just very different because we are allowing several different people to bring their own talents to the floor."
Michael Laing of Laing Edinburgh adds: "The bottom line for us is it is all about people and if we get the customer experience right and the people right and the interactions of our customers right, there is nothing more compelling and builds more fans than our interaction with people. It's why we go to restaurants regularly and love being recognised. If we can keep each individual communication with a customer wonderful then that is the best job I can do."
Professional Jeweller's time in Edinburgh was certainly an insightful one, and in many ways it is a shame we only have a few pages to discuss business in the city. While one should never choose a favourite, if someone had to ask me the best place I have visited in this feature series — Scotland's capital would definitely be high up on the list. Yes it helped that I went during the hustle and bustle of Fringe Festival, but strictly looking at business alone it was evident that the jewellers here know business and mean business. Despite enjoying a high amount of footfall, they don't sit back and wait for their doors to open. They are committed to seeking clients and keeping clients (going the extra mile to do so), and in turn they are confident that even during hard economical and political times in the UK, their businesses are going to be ok.
News Source: professionaljeweller