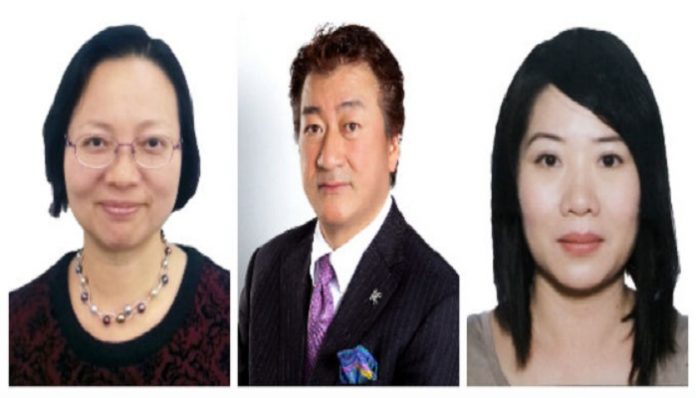 The JNA Jewellery Design Competition 2018/19 has announced its prestigious panel of judges comprising distinguished luminaries in the fields of design, jewellery and the arts.
Organised by JNA of UBM Asia and sponsored by Crossfor Co Ltd, Platinum Guild International (PGI) and the Tahitian Pearl Association Hong Kong (TPAHK), the competition
aims to foster creativity and innovation in jewellery design.
The independent judging panel of the competition's inaugural edition consists of highly respected, esteemed leaders from the jewellery industry and the arts, chosen for their extensive knowledge and expertise. They will run a two-part thorough, fair, transparent and rigorous judging process. Entries will be evaluated on their adherence to the theme, originality, creativity, aesthetics and market potential.
The judging panel is chaired by renowned jewellery designer Fei Liu who earned the coveted UKJA Designer of the Year award in 2016 and was named Designer of the Year by China's Harper Bazaar in 2012 through his passion for jewellery and his commercial nous. He is joined by Robert Tateossian, founder of the Tateossian London brand; New York-based visual artist Bradley Theodore; Christie Dang, publisher and editor-in-chief of the JNA group of publications; and a market insider from each category.
The panel brings a wide variety of experience to the judging process. Here are the judges for the JNA Jewellery Design Competition 2018/19.
Chairman – Fei Liu
Fei Liu, founder and designer of Fei Liu Fine Jewellery, graduated from the internationally renowned Birmingham School of Jewellery. After graduation, he worked in the trade for a well-known Italian jeweller. Taking all he had learned, Liu founded his eponymous brand in 2006, creating pieces with East-meets-West influences. Liu's jewellery is sold in over 155 boutiques around the world, including the UK, Germany and China.
Judge – Bradley Theodore
Born in Turks & Caicos, New York City-based Bradley Theodore began his fascinating career by adorning the city's streets with vibrant, chromatic murals depicting contemporary pop culture and fashion "royalty" in his signature skeletal style. The multi-disciplinary artist's body of work includes distinctive, colourful portraits of Queen Elizabeth, George Washington and fashion giants Anna Wintour and Karl Lagerfeld. His life and unique artistic perspective were the subject of the independent film, "Becoming: Bradley Theodore," which premiered at the 2016 Tribeca Film Festival. Theodore has held numerous critically acclaimed solo exhibitions around the world and collaborated with several iconic brands.
Judge – Robert Tateossian
From city financier to jewellery designer, Robert Tateossian founded his eponymous brand in 1990 to offer men and women a distinctive way to express their personality and style. Widely recognised as the 'King of Cufflinks' due to his successful range of cufflinks, he often draws on his internal upbringing, love of luxury and travel in creating innovative and unique pieces of uncompromising quality. The Tateossian brand has won the UK British Export Award for Accessories three times. Many of its signature elements reflect Robert's own appreciation of mechanism, aesthetics and the unconventional, delivering distinctive yet wearable pieces.
Judge – Christie Dang
Recognised for her dedication, professionalism and passion for the jewellery and gemstone industry, Christie Dang has been with UBM Asia's Jewellery Media Group (formerly known as Jewellery Publishing Group) since 1997. She has travelled the world to report on the latest and most pressing developments in the gemstone and jewellery trade, from the opportunities and challenges presented by emerging markets such as mainland China to the latest technology innovations and design trends impacting the global jewellery industry. For more than 20 years, she has lead CJNA, one of the most influential jewellery publications in the Greater China region. In August 2017, she was promoted to publisher and editor-in-chief of the JNA group of publications.
Tahitian Pearl Category Judge – Ida Wong
Ida Wong is the general manager of the TPAHK. With over 15 years of marketing and jewellery promotion experience, she has been actively promoting Tahitian pearls by initiating sponsorships and other marketing campaigns, thereby contributing to greater awareness of the gem among designers, wholesalers, retailers and consumers. Wong's vast knowledge of Tahitian pearls has made her a much sought-after judge, adviser and/or committee member of international jewellery design competitions.
Dancing Stone Category Judge – Hidetaka Dobashi
Gemmologist Hidetaka Dobashi founded Dobashi Jewelry Trading in 1980 and Shibado Co Ltd in 1987. In 1999, he established Crossfor Co Ltd. Two years later, he obtained the patent for the Crossfor Cut, a unique technique to enhance diamond brilliance through 46 facets. Growing from strength to strength over the years, Crossfor Co Ltd again broke new ground in jewellery manufacturing in 2011 with the launch of the patented "Dancing Stone" technology, a mechanism that sets a centre stone in constant motion. Dobashi's unrelenting passion for innovation, business acumen and inspired leadership continue to catapult Crossfor Co Ltd to greater heights. The company was listed on the Tokyo Stock Exchange (JASDAQ) in 2017.
Platinum Category Judge – Suzanne Wong
Suzanne Wong, senior product manager of PGI, is committed to fostering creativity and innovation in the platinum jewellery segment. With over 25 years of experience in the jewellery industry, working with renowned jewellery brands and leading retailers in China, she is an expert on design, R&D and market strategy. Wong harnesses her product development expertise and her GIA Gemologist, Diamonds and Colored Stones diplomas towards the development of innovative jewellery designs in platinum.
News Source: jewellerynet.com