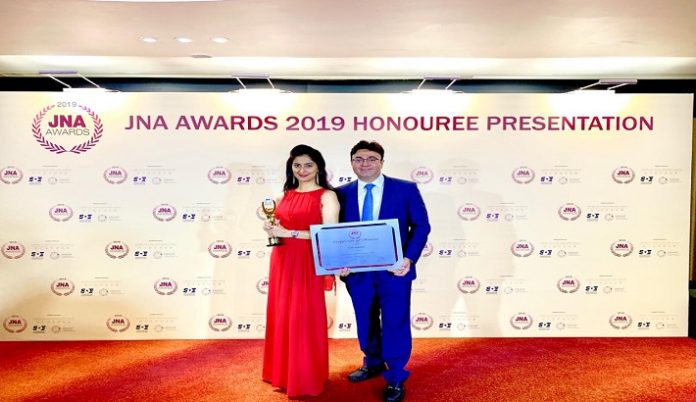 Mumbai, 18th September 2019: Kashi Jewellers, known as House of Kashi gets honored as "Outstanding Enterprise of the Year India 2019" at the JNA Awards 2019 at Intercontinental Hong Kong.
The Award was received by Mr. Shreyansh Kapoor, Vice President, Kashi Jewellers and Dr. (Mrs.) Devika Kapoor, Creative Head, Kashi Jewellers from Mr Albert Cheng, World Gold Council, Far East Division, at a Glittering Ceremony at Intercontinental Hong Kong.
The ceremony was presided by a Honorary March by the Winners which was headed by Dr. Devika and Mr. Shreyansh Kapoor. All the World Gems and Jewellery Leaders were in Attendance. The Red Carpet Event was superbly conducted by Informa Markets Group (Previously known as UBM Asia).
The event was chaired by Ms. Letitia Chow, Chair of Judges and Founder of JNA.
JNA Awards is a Hong Kong based award that advocates the best business practices in Jewellery and gemstone industry. JNA Awards recognizes and promotes companies as well as individuals that demonstrate proven and outstanding leadership capabilities, innovative thinking, social responsibility, sustainable strategies and their overall contribution in Asian trade and communities.
The prestigious awards programme in 2019 is strongly supported by Headline Partners Chow Tai Fook Jewellery Group Limited, Shanghai Diamond Exchange, and Bahrain Institute for Pearls and Gemstones, Honored Partners the KGK Group, China Gems & Jade Exchange, and Guangdong Land Holdings Ltd
Kashi Jewellers received an award for "Outstanding Enterprise of the Year India 2019" last night at the JNA Awards 2019 Grand Gala Ceremony held at Intercontinental, in Hong Kong. Kashi as a brand is known for its legacy in offering intricate craftsmanship in its Jewellery designs, best price points for its products and unmatched trust from its loyal customers irrespective of their economic status over all these years.
The judging panel team members included names like Nirupa Bhatt- GIA India and the Middle East Managing Director, Albert Cheng- World Gold Council Far East Advisor, James Courage-Platinum Guild International Former Chief Executive Officer, Mark Lee- Asia Pacific Institute for Strategy Research Director, India and the Middle East Managing Director, Lin Qiang- Shanghai Diamond Exchange President and Managing Director, Yasukazu Suwa- Suwa & Son, Inc. Chairman, and Letitia Chow Mei Lai – Chair of Judges and she is the Director of Business Development – Jewellery Group at UBM Asia.
"We would like to thank you for your overwhelming Love and Support for the last 70 years. We feel proud to represent India at a World Stage. This has been one of the greatest achievements for us and we aim for many more as we go ahead", says Mr. Shreyansh Kapoor, Kashi Jewellers.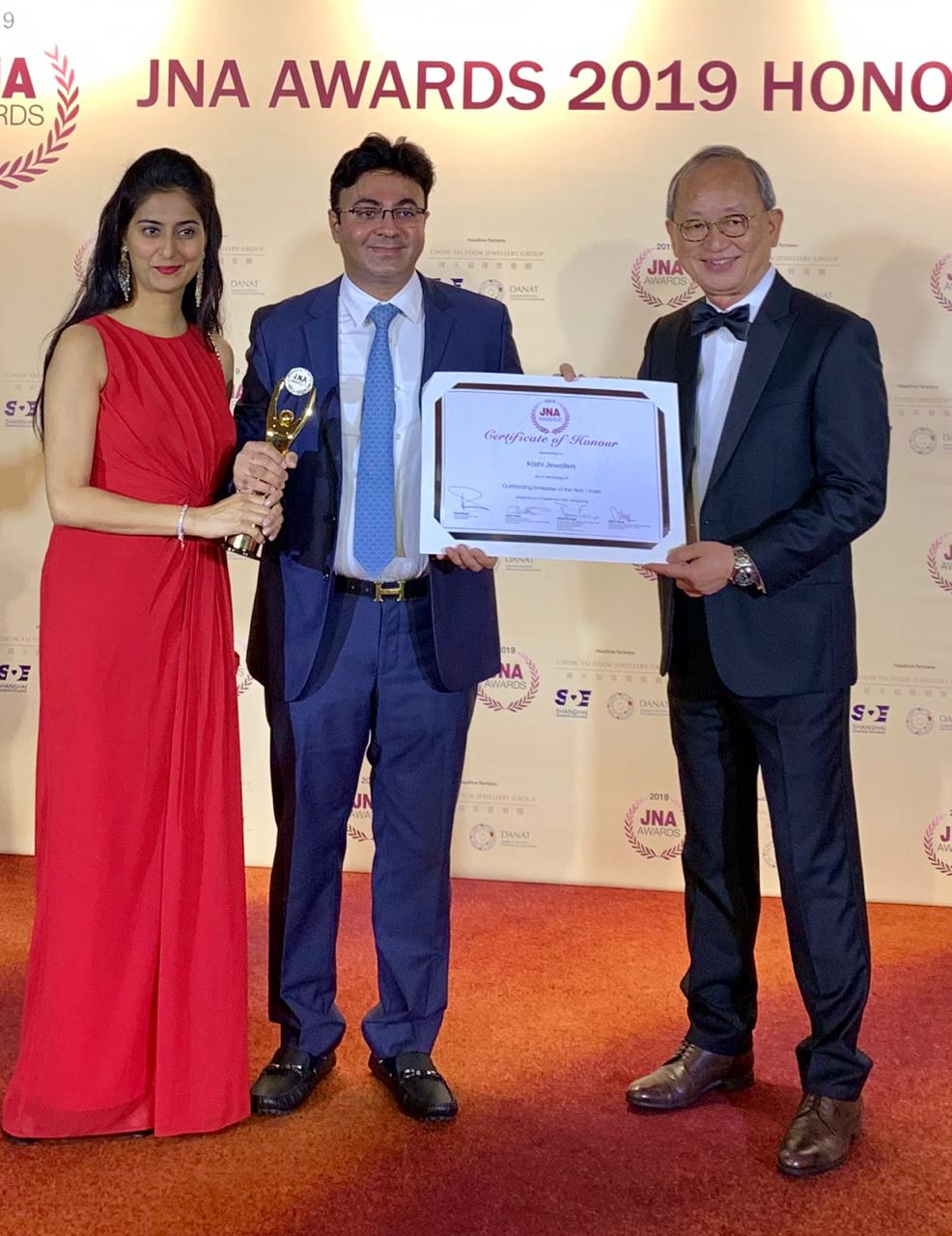 About Kashi Jewellers:
Kashi Jewellers is a heritage jewellery company that was founded in 1955 in Kanpur, Uttar Pradesh, with the vision to offer finely crafted jewellery with innovative designs. It prides itself in providing exemplary and luxurious customer service, and offers clients the option of customizing its products to their satisfaction.
Kashi Jewellers has always set a high benchmark for its competitors when it comes to purity, quality and value of its jewellery. It is the only jewellery outlet in North India to have in-house manufacturing, retailing and export units. Additionally, its diamond jewellery is manufactured at state-of-the-art factories in Kanpur and Kolkata. They regularly conduct training sessions for their staff, ensuring they are always up to date with the latest technology.
The brand's customer base is spread across towns and cities both in India and globally, including Kanpur, Mumbai, Kolkata, Delhi, Chennai, Dallas and London. In 1979, it became one of the first Indian jewellers to begin exporting products and currently has clients in the UK, USA, South Africa and the UAE.