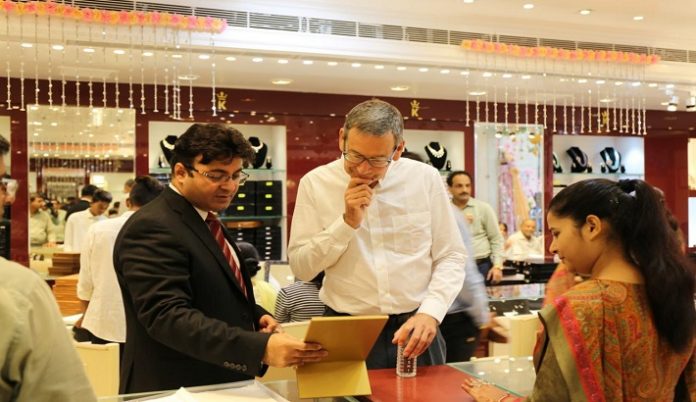 Kashi Jewellers, known as House of Kashi is nominated as an Honouree at the most prestigious international JNA Awards 2019. JNA Awards is a Hong Kong based awards programme that advocates the best business practices in jewellery and gemstone industry. JNA Awards recognises and promotes companies as well as individuals that demonstrate proven and outstanding leadership capabilities, innovative thinking, social responsibility, sustainable strategies and their overall contribution in Asian trade and communities.
The prestigious awards programme in 2019 is strongly supported by Headline Partners Chow Tai Fook Jewellery Group Limited, Shanghai Diamond Exchange, and Bahrain Institute for Pearls and Gemstones, Honoured Partners the KGK Group, China Gems & Jade Exchange, and Guangdong Land Holdings Ltd. The Grand Awards Ceremony will be held on 17th September 2019 at Hong Kong.
Mr. James Courage, former CEO at Platinum Guild International specially visited Kashi Jewellers – Kanpur store all the way from London for an audit, met the top management and saw the working environment, customer handling and operations, processes, customer engagement from Sales staff and the quality of products. The nomination has happened post the successful audit.
Kashi as a brand is known for its legacy in offering intricate craftsmanship in its jewellery designs, best price points for its products and unmatched trust from its loyal customers irrespective of their economic status over all these years.
The judging panel team members include names like Nirupa Bhatt- GIA India and the Middle East Managing Director, Albert Cheng- World Gold Council Far East Advisor, James Courage-Platinum Guild International Former Chief Executive Officer, Mark Lee- Asia Pacific Institute for Strategy Research Director, India and the Middle East Managing Director, Lin Qiang- Shanghai Diamond Exchange President and Managing Director, Yasukazu Suwa- Suwa & Son, Inc Chairman, and Letitia Chow Mei Lai – Chair of Judges and she is the Director of Business Development – Jewellery Group at UBM Asia.
The panel of judges and award team work tirelessly to make the judging process the fairest and most robust in the industry. This year JNA Award 2019 team had received extremely challenging competition among many high-quality entries.
" We are extremely honoured to have been bestowed upon this love and respect by JNA. It is our effort to work tirelessly for our customers, giving them the best designs at the right price in the right environment cultivated with trust, loyalty and love. Coming in the honouree list of the JNA is an achievement in itself and we look forward to the awards night!", says Mr. Shreyansh Kapoor, Kashi Jewellers.
About Kashi Jewellers:
Kashi Jewellers is a heritage jewellery company that was founded in 1955 in Kanpur, Uttar Pradesh, with the vision to offer finely crafted jewellery with innovative designs. It prides itself in providing exemplary and luxurious customer service, and offers clients the option of customizing its products to their satisfaction.
Kashi Jewellers has always set a high benchmark for its competitors when it comes to purity, quality and value of its jewellery. It is the only jewellery outlet in North India to have in-house manufacturing, retailing and export units. Additionally, its diamond jewellery is manufactured at state-of-the-art factories in Kanpur and Kolkata. They regularly conduct training sessions for their staff, ensuring they are always up to date with the latest technology.
The brand's customer base is spread across towns and cities both in India and globally, including Kanpur, Mumbai, Kolkata, Delhi, Chennai, Dallas and London. In 1979, it became one of the first Indian jewellers to begin exporting products and currently has clients in the UK, USA, South Africa and the UAE.