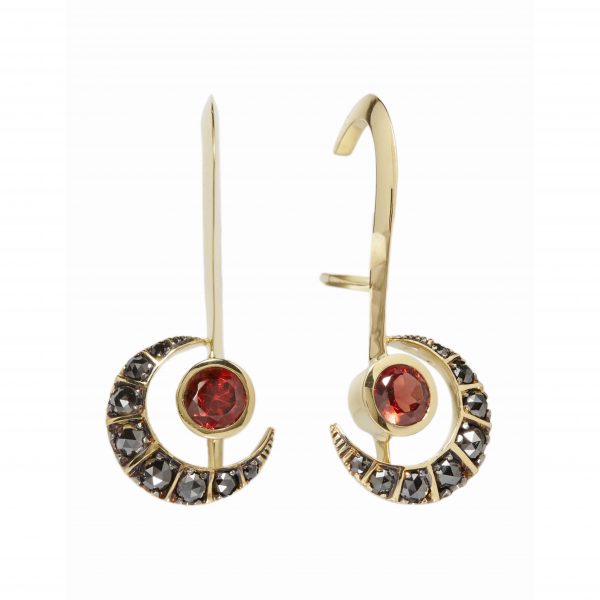 Friends Brazilian jeweler Ara Vartanian and fashion model Kate Moss have created a limited-edition jewelry line together inspired by old English legends. The collection features mythical medieval symbols mounted with swords reminiscent of St. George, Patron Saint of England, who slew a dragon to save a pagan town; there are also mysterious sickle moon symbols and amulets. The collection is set with rich stones including amethyst, citrine, garnet, and green goldstone in 18k gold as well as one-of-a-kind pieces set with diamonds and rubies. Prices start at $790.
"I have an amulet pendant with inverted diamonds to keep away bad energy," said Vartanian. "Kate was in love with it so I gave it to her and had to create a new one for myself. From there, we decided to make a collection of pieces with the intention of bringing good energy. To us, they are more than fashion pieces because they are not seasonal—it's something more." The two first met three years ago and it was Kate who first encouraged Vartanian, who was already successful in Brazil, to open his first boutique in London.
"I wanted to design jewelry that I can wear every day," said Moss. "I wanted this collection to have all the stones and the craftsmanship that Ara does so well, but in a more informal way." The Kate Moss X Ara Vartanian collection is for sale at Vartanian's flagship store in Mayfair, London, as well as harveynichols.com.
18k yellow gold single hook earring with rubies and black diamonds, $5,700
18k yellow gold ring with mother of pearl and garnet, $2,300
(Top: 18k yellow gold hook earrings with garnet and black diamonds, $4,300)
Kristin Young is writing the All That Glitters blog while Amy Elliott is on maternity leave.
News Source : jckonline.com