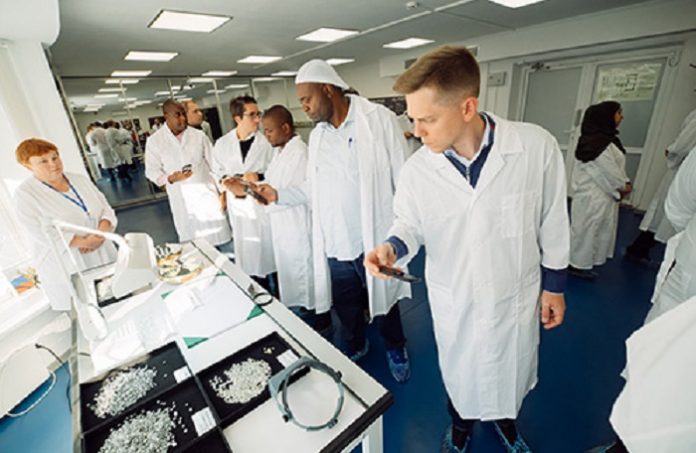 A delegation from the Kimberley Process (KP) conducted a review visit to Russia on August 25-30, 2018 visiting facilities related to the system of mining, accounting, implementation and control of operations with rough diamonds, and to assess their compliance with the minimum requirements of the KP Certification Scheme, ALROSA said in a statement.
The delegation was led by Angola and included representatives of Botswana, EU, UAE, South Africa, and KP observers – World Diamond Council (WDC) and Civil Society Coalition (CSC).
The Ministry of Finance of the Russian Federation represents Russia in the Kimberley Process which includes 54 countries (including the EU, which is part of the KP as a single participant).
Facilities visited by the delegation include the United Selling Organization (USO) of ALROSA in Moscow, the production site of PJSC Severalmaz and the diamond sorting center in Arkhangelsk. In addition, the delegation visited recently opened facilities that did not exist at the time of the previous visit – the Eurasian diamond center and the KGK Company in Vladivostok.
KP review visits are regular practice; such visits to each country are held every few years to check whether existing rules and procedures allow monitoring the diamond turnover. After the review visit, the KP publishes a report with assessments and recommendations.
The last Kimberley Process review visit to Russia took place in 2013. After that visit, the rough diamonds control system adopted in the country was recommended to the rest of the KP participants as the best practice for implementing the Kimberley Process ertification Scheme, ALROSA said.
News Source: gjepc.org