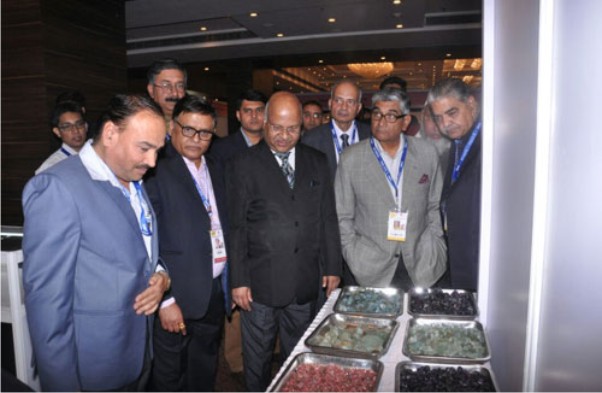 Nearly 1,000 members of the trade, including both pre-registered and on-the-spot visitors attended the opening two days of the India Rough Gemstones show organised by The Gem & Jewellery Export Promotion Council at Hotel Marriott in Jaipur. The event, which is the first ever B2B trade show exclusively for rough gemstones, concludes today.
The show, which has 25 exhibitors from eight countries, including a large Madagascar pavilion was inaugurated on January 8, 2018 by Shri Subhash Chand Agarwal, Commissioner of Customs, Jaipur. Shri Agarwal welcomed this initiative taken by GJEPC and assured the participants full support from the customs department.
Exhibitors include miners and traders in rough gemstones from Afghanistan, Canada, Ethiopia, Hong Kong, Madagascar, Tanzania, Thailand and Zambia.
In addition to gemstone and jewellery manufacturers, senior government officials including Shri Rajkamal, Director, MoC&I.; Shri Virendra Singh, Jt. DGFT, Jaipur; Shri Manjoor Ali Ansari, Addnl. Commissioner, Customs; Smt. Sujata Priyadarshini, Jt. Commissioner, Customs; Dr. Poonam Meena, Dy. Commissioner, Customs and Dr. B.K. Meena, Dy. Commissioner, Customs also visited the event.
The new show aims to create a more organized trading platform for rough gemstones that helps direct interaction between producers, miners and traders on the one hand, and manufacturers of loose gemstones, as well as of coloured gemstone studded jewellery, on the other. Through initiatives like this, the Council hopes to help these manufacturers overcome one of the biggest challenges they face – the lack of a steady supply of rough with consistent qualities and stable price ranges.
Pic caption: Chief Guest and other dignitaries viewing some of the rough gemstones on display
News Source : gjepc.org