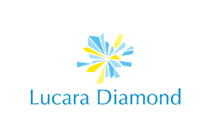 Announcing its Operating Outlook for 2017 Lucara Diamond Corp. said that it expects revenues of US$ 200 million to US$ 220 million for the year for the production of its 100% owned Karowe mine. This amount does not include the sale price of the Lesedi La Rona diamond.
The Karowe mine is forecast to process between 2.2 – 2.5 million tonnes of ore, producing between 290,000 and 310,000 carats of diamond. "It is expected that the mine will process material largely from the south lobe during 2017," the Company indicated. "The overall grades of the south lobe are lower than the centre and north lobes resulting in lower diamond production, which is expected. However, the overall diamond quality and value of the south lobe is much higher and has historically resulted in significantly increased revenue and cash flow."
Operating cash costs for the mine are expected to be between US$ 36.0 – US$ 40.0 per tonne processed "following a planned increase in waste mining as the Company advances toward early completion of a major push back by the end of 2018", the Company said. Operating cash costs, excluding waste mining is expected to be $19 – $20 per tonne processed in 2017.
"The Company anticipates it will declare an annual dividend in 2017 of Canadian $ 0.10 per share to be paid in four equal payments at the end of each financial quarter," Lucara announced.
William Lamb, President and Chief Executive Officer, commented, "2016 has been a successful year for Lucara with strong cash flows driven by revenues from the south lobe supported by our continued focus on cost control. Our performance resulted in a special dividend payment in 2016 and we anticipate increasing our 2017 dividend from CAD $0.06 per share to CAD $0.10 per share."
Lamb added that in 2017 the Company's focus will be "on advancing the push back in the pit at the Karowe mine, which is expected to be complete by the end of 2018". This, he said will give the Company "full access to the high value south lobe ore and a significant reduction in waste mining going forward".
The deep drilling programmed is expected to be completed in early 2017, resulting in an updated resource statement.
"A budget of up to $10.0 million has been allocated to advance exploration work and the Company's underground study," Lucara stated.
News Source : gjepc.org