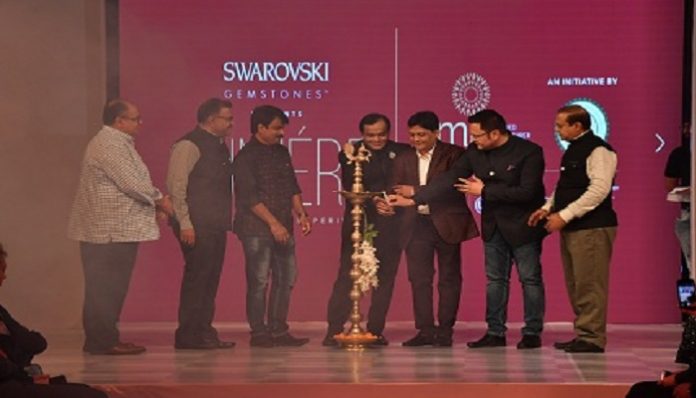 Lumière: An Extravagant Night of Dazzling Jewels by Swarovski
GJC hosted an exclusive fashion soirée last night at Hyatt Regency, Mumbai. The night saw an assemblage of people from the jewellery industry as well as top retailers from across India. Nitin Khandelwal, Chairman, GJC, addressed the gathering and enlightened the audience about GJC's activities towards the betterment of the industry.
Models walked the ramp wearing exclusive jewellery that contested in the Gem Vision Contest this year. 1st prize was bagged by K Srinivasan, Emerald Jewel Industry, 2nd prize was bagged by Shweta Narsariya, Divinus Creations while third prize was a tiebreaker between RKR Gold & Yug by Tanvi Gold Cast LLP.
The winning pieces were worn by stunning models and showstoppers at this dedicated fashion show which was privy to the crème de la crème of the industry. The showstoppers included Rimi Sen, Amisha Patel and Kainaat Arora. Some of the top models who were seen sporting the jewellery on the ramp were Purva Rana, Ruhi Chaturvedi, Priyanka Kumari, Parul Mishra and more. The night hosted by GJC was sponsored by GIA, Uma Ornaments and BVC Logistics.
News Source: diamondworld.net