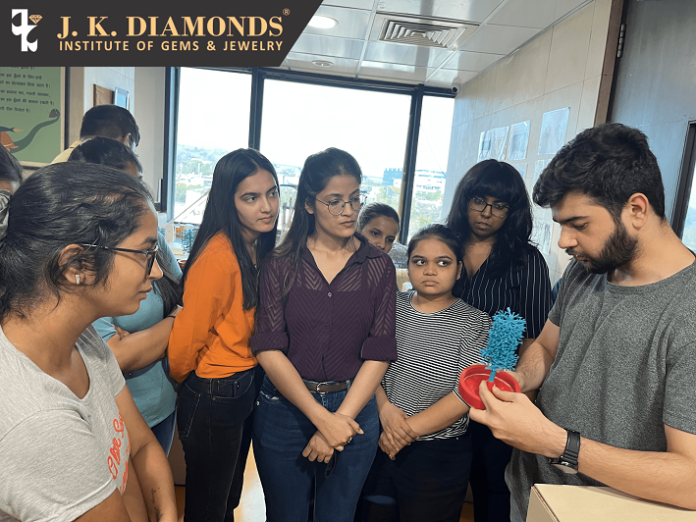 Practical learning is an essential part of courses offered by JK Diamonds Institute. The expert faculty encourages students to gain inspiration and break chains of creativity and innovation. After all, success is not just a product of learning textbooks – it requires consistent training to develop skills and practical exposure to understand the markets. JK Diamonds Institute believes in quality exposure as it enables students to acquire market specific techniques which will further become their tools of trade. 
Kama Schachter is a renowned, award winning diamond jewelry manufacturer and exporter. Since its inception in 1996, the company has made a remarkable place for itself in the industry. Kama Jewelry earned itself a name in the industry, with its finely-crafted diamond jewelry. The company ranks among the top 10 manufacturers of diamond jewelry in Asia with offices in India, USA, Germany, Japan, China and Hong Kong and a distribution network spanning major markets, namely, India, USA, Europe, Russia, Japan, Middle East and Australia. This has helped Kama Schachter establish itself in the international markets and be associated with premium jewelry retailers across the globe.
Over the years Kama Schachter has received accolades for excellence in manufacturing and exporting diamond jewelry. The most prestigious ones are the award for the 'Largest Exporter outside Seepz' for 4 consecutive years, the 'Udyog Ratna' awards, and the 'Emerging SME' award.
When Manual designing students of JK Diamonds Institute visited the Kama Schachter jewelry factory, they had a wholesome experience. Travel arrangements were made to the factory located in Seepz Andheri. From the moment they landed at the place, members of the Kama Schachter factory assisted them. Among the members was Simran, the daughter of Colin Shah- director of Kama Schachter. 
A brief introduction about the company was given before the session began. Post the briefing, the students were taken through the entire process of production- including pre-production. From manual jewelry designing on a piece of paper to the final manufacturing of the jewelry pieces, everything was explained in great detail. Students raised questions and doubts during the explanation and each question was considered significant. All doubts were solved clearly without leaving room for misconceptions. 
Post the entire run through, there was a special Q and A session arranged by Kama Schachter. One of the directors of the company named Annie led the Q and A session. The students were deeply content with the knowledge and experience offered by the factory and its members. 
And finally after a resourceful journey, everyone enjoyed scrumptious pizzas and soft drinks at the venue! From manual designing, to CAD, to jewelry making/manufacturing- the entire process was mesmerizing. Students took home a huge bag of knowledge and experience which is surely going to help them in the future.