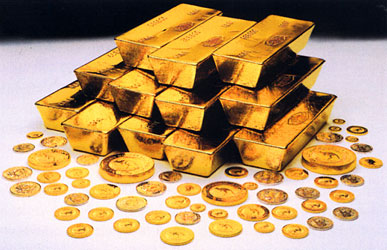 Global gold prices responded to the latest 0.25% hike in the US Federal Reserve rate announced yesterday with only marginal movement, partly because the market may have already factored in the increase in rates during its drop over the past few weeks, and partly because some of the economic data from that country also released yesterday was less positive than expected. Later, a report in The Washington Times that said President Donald Trump himself could also be probed for possible obstruction of justice in the inquiry around speculation over Russian attempts to influence the US polls, even pushed prices marginally up in the early part of Thursday in Asian markets.
Given the softening of economic data from the US, analysts were also unsure whether the number of Fed rate hikes this year (it had earlier proposed three in 2017) would now be reduced. However, Fed Chair Janet Yellen indicated that the schedule may not change, even as she announced other plans to make changes in Fed's balance sheet. Yellen said that the Fed anticipates "reducing reserve balances and our overall balance sheet to levels appreciably below those seen in recent years but larger than before the financial crisis."
There had been some expectation that the Fed would take a more dovish stance as economic data released earlier in the day had softened. Retail sales figures were down 0.3% against an expected 0.1% fall, while consumer price index figures at 1.9% were also below the anticipated 2%.
Gold closed in the US at $ 1260.10 per ounce or 0.47% down on Wednesday, but recovered to an extent as the Asian markets opened on Thursday, indicating that the political uncertainity and questions regarding the strength of the economic revival could keep 'safe-haven' investors interested in the yellow metal.
Analysts believe that prices may not dip significantly in the coming weeks and some even project an upward trend should the political and financial uncertainty persist and grow.
News Source: gjepc.org