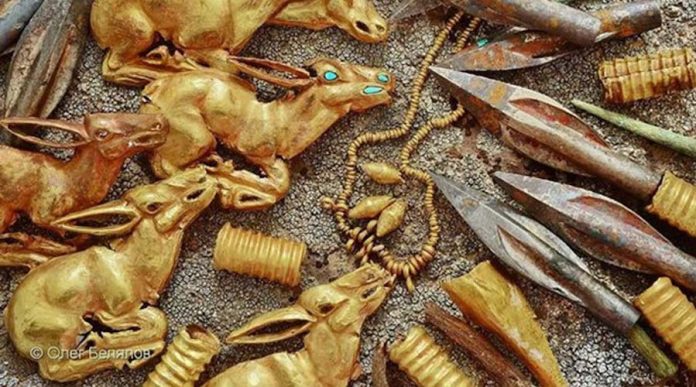 Archaeologists working in the remote Tarbagatai Mountains of northeastern Kazakhstan unearthed 3,000 gold and precious metals objects and jewelry pieces that are presumed to date back almost 800 years before Christ.
The treasure, found at the 'Yeleke Sazy' burial site, probably belonged to a noble family of the Saka people who ruled throughout central Asia 2,800 years ago and were a nomadic sub-group of the great Scythian people.
According to local media, the research team led by historian Zeinolla Samashev were impressed by the level of technological development in gold jewelry production that the pieces showcase.
The burial items that accompanied two bodies included bell-shaped earrings, gold plates, chains, necklaces with precious stones, exquisitely crafted animals and golden beads that were used to decorate the elaborate clothing of the Saka.
The archaeologists continue to excavate the region because they presume there are close to 200 burial mounds on the Eleke Sazy plateau.
News Source: mining.com