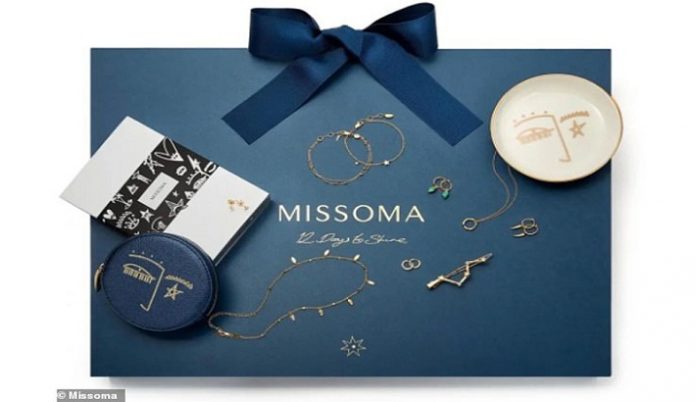 British jewellery brand Missoma is set to release a '12 Days to Shine' jewellery advent calendar this year.
Advent calendars have come along way in the last few years, with an increasing number of luxury firms launching their own take on the festive classic.
Despite boasting high price tags, many advent calendars sell out, and now Missoma is going to try and cash in on the craze with the launch of its 12 Days to Shine
Missoma, which has experienced a boost in business since being named one of Meghan Markle's favourite brands, will be offering consumers the chance to countdown to Christmas with some of its bestselling products and brand new designs.
The calendar is expected to include the company's gold star moon stud earrings, gold mini claw charm hoops, and a gold double chain bracelet.
It is also said to hold the first appearance of a constellation-themed cosmic hair slide, which will only be available with the calendar, alongside non- jewellery products such as ceramic jewellery dish, notebooks and coin purses.
The calendar will be available from October 22 onwards with a retail price of £395, making it one of the more expensive calendars available on the market for the coming Christmas season.
New Source : professionaljeweller