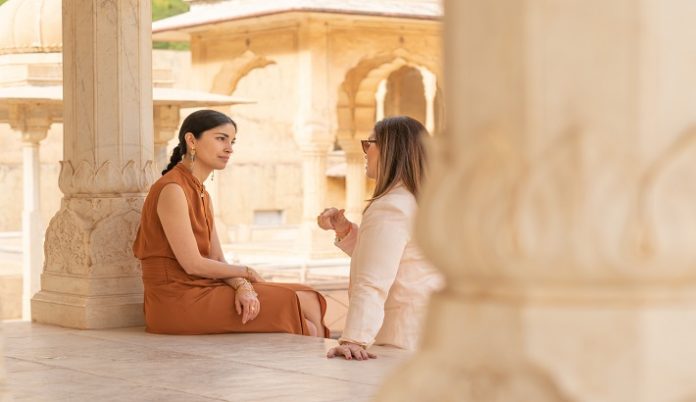 For the very first time Monica Vinader has launched a collaborative collection.
In a vibrant celebration of the raw beauty of natural gemstones, the British brand has collaborated with fashion editor, style icon, CEO and publisher at TANK, Caroline Issa, to offer consumers a colourful new line.
Monica Vinader X Caroline Issa came to life in the eponymous brand founder's studio, where Issa was mesmerised by the raw beauty of loose gemstones in their natural state.
Vinader's know-how with gemstones and colour combined with Issa's distinct eye for style soon became a collection that celebrates a rainbow of candy hues, whilst pushing the brand's trademark designs to new territories.
As a result, pieces feature a series of generous gem droplets in bespoke link chains, pendant necklaces, and huggie earring styles, where every gemstone is completely unique.
Caroline Issa says: "When Monica personally asked me to collaborate on some pieces with her, I jumped at the chance. What we both love and gravitate to – juicy colours, natural beauty, anything with positive energy that radiates – means that we very quickly and instinctively were able to create some joy-inducing jewellery.
"Playing with a myriad of gemstones, all of which were met with oooohs and aaaahs and scoopfuls of stones in my hands, their magic in their raw form is immediately apparent. Choosing between them was torture, but the end result feels harmonious and magical."
Issa says charm bracelets have always been a wardrobe piece, so she was delighted to be able to work with the brand to create bespoke chains with individual gem charms.
The style icon envisages the chunky necklace in the range being work with jeans or a tuxedo.
"It has been such a joy to collaborate with Monica and her team, as I have worked closely with them over the years on visual campaigns but to get the dream job of designing my fantasy jewellery wardrobe using their know-how and expertise? A true dream come true," concludes Issa.
The collection, crafted in 18ct rose and yellow gold vermeil, launched today (September 9). Take a look at some of the line below:
New Source : professionaljeweller