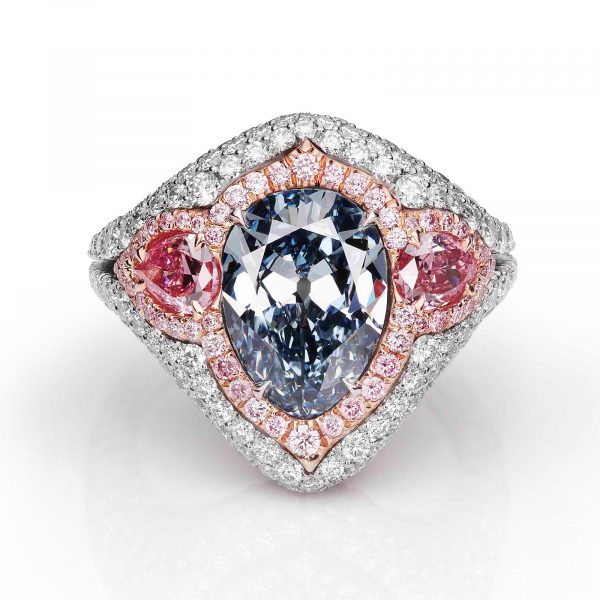 On Day One of the JCK Las Vegas show, many of the retailers streaming through the doors of the Mandalay Bay Convention Center were armed with strict shopping lists—but even more said they were on the hunt for the elusive "new" and "next" in jewelry design.
"We really want to do a full revamp of the basics we have in the store and get rid of all the old, basic stuff," said Shari Altman, owner of B&E Jewelers in Southampton, Pa. Multistrand cuffs (with and without gems) were a priority for the retailer, who had already written an order for bracelets priced at around the $500 mark with Henderson Collection (LUX-517).
Teresa Shook, owner of the Jewelry Exchange in Hickory, N.C., said she was also pivoting away from basics this year. The retailer, who has "colored stones" at the top of her shopping list this year, was eyeing oversize cocktail rings and added, "People aren't afraid of color anymore."
Obsession earrings with 20.89 cts. t.w. paraiba tourmaline slices; $36,899; Graziela Gems (LUX-EE12)
Niveet Nagpal, president of Omi Gems (LUX-916), concurred. "We are seeing more people buying 'wow' pieces; they're taking way more risk with color," he said. "It takes a little more work on the retailers' end to [sell color], but the ones who are really successful are doing it."
Among the colored gems, blues are shaping up to be this year's top sellers, say vendors.
Adam Graham, Omi's director of marketing, ­reported that the brand's deep-blue sapphire ­pieces were "on fire," while Jeff Liebich, regional sales representative for Allison-Kauffman (LUX-1227), said the brand's stunning mixed sapphire and London blue topaz earrings and pendants were reeling in retailers.
Graziela Kaufman, owner and ­designer of Graziela Gems (LUX-EE12), was ­briskly selling through her fashion-forward collection of gorgeous white gold pieces set with "denim" aquamarine from Brazil's Tatu mine. She also came armed with paraiba, one of her signature stones. "People love the blues," she reported.
Also shaping up as a trend this year: mixed colored gem pieces in pale pastel hues—namely pinks, yellows, and violets—with the freshest examples popping up in the bridal category.
Pirouette ring in white gold; $1,950 (without center stone); A. Jaffe (PC-240)
L.J. West Diamonds' (LUX-1337) take on the trend—which includes a ­ring with a violet diamond center stone edged by twinkling pink and white melee—is particularly stunning.
And putting a (literal) twist on ­classic engagement rings this year is A. Jaffe (PC-240); the company is showing its innovative new Pirouette ring, which ­includes a mechanism that allows wearers to click back and forth between north-south and east-west settings.
"These have been a big hit with ­retailers," says sales manager Kate Smith. "They want their customers to see them right away, so they're posting on social media with Boomerang."
Top: violet diamond ring with pink and white diamonds; price on request; L.J. West Diamonds (LUX-1337)
News Source: jckonline.com