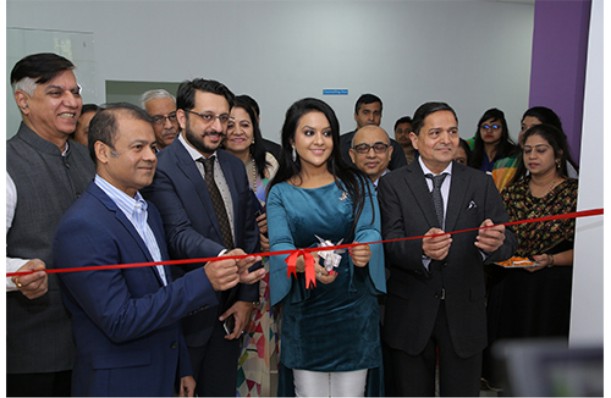 A new Skill Development Centre and the 12th Graduating Exhibition – Glimpz 2018 were both inaugurated at The Indian Institute of Gems and Jewellery (IIGJ) Mumbai by Chief Guest Smt. Amruta Devendra Fadnavis, First Lady of Maharashtra and Guest of Honour Mr. Rajiv Popley, Director of Popley Group on February 17, 2018.
The new Centre is a dedicated set up aligned with NSDC standards, established for specialised courses in jewellery design, CAD, manufacturing, diamond grading and gemmology.
Other dignitaries present at the inauguration included Mr. Kirit Bhansali, Chairman IIGJ Mumbai, Mr. Praveenshankar Pandya, Former GJEPC Chairman, Mr. Colin Shah, GJEPC Vice Chairman, Mr. Sabyasachi Ray, GJEPC Chief Executive Director, Ms. Veena Wadkar, GJEPC Executive Director, and members of the IIGJ Mumbai Board of Directors, Mr. Sanjay Kothari, Mr. Vasant Mehta, Mr. Nirmal Barmecha, & Mrs. Namita Pandya and IIGJ Mumbai head Mr. Sanjoy Ghosh.
Subsequently, the dignitaries also visited the Glimpz 2018 exhibition presented by the graduating batch of the three year degree course. The students had created jewellery collections based on the theme "Sustainability & Revival", with special focus on jewellery with unusual mechanisms and concepts.
In line with the government's Make in India initiative, students were asked to research on concepts which would be influenced by the Art & Craft culture of India, especially by reviving those that are on the verge of extinction. They could also create jewellery based on waste materials.
After the inauguration Smt. Fadnavis and Mr. Popley personally interacted with every passing out student while viewing their exhibits.
Pic caption: At the inauguration of the new Skill Development Centre (l-r)- Mr. Pravin Shankar Pandya, Mr. Colin Shah, Mr. Rajiv Popley, Mrs. Amruta Devendra Fadnavis and Mr. Kirit Bhansali
News Source : gjepc.org