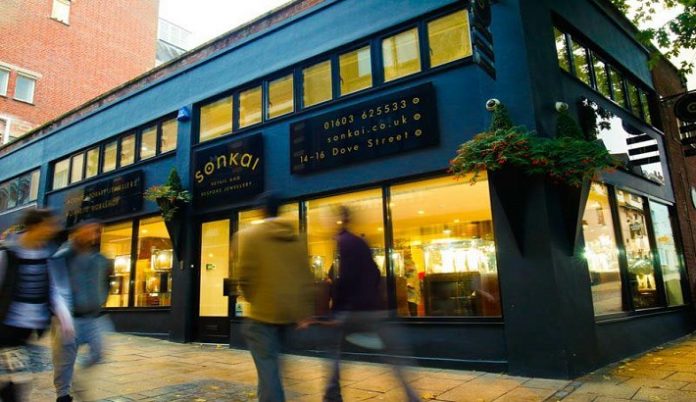 Independent jewellery retailer, Sonkai Jewellers, has found a new home in Norwich ahead of Christmas trading.
The business is relocating from the city's lanes into the Royal Arcade.
Sonkai Jewellers owners, Sara Sweet and Craig Snape, had been looking for a new location after its shop in Dove Street got sold off by its owner.
With rents being offered in the Royal Arcade at a reduced rate by owners Legal & General, the duo felt it was the perfect new home for the independent jewellery business.
Sonkai owner, Sara Sweet, tells Eastern Daily Press: "We are working goldsmiths, we are an independently-owned, family business and it feels fitting to now move to the arcade for so many reasons. Apart from the fact that we love the beauty of the arcade and the black and gold signage perfectly suits our brand, we are also thrilled to be moving Sonkai there as it has so much history behind it.
"In 2016 we completed a commission for Norwich City Council, which was to design and make new civic chains for the Lord Mayor and Sheriff of Norwich. Researching the local history for the designs was fascinating and we've all remained super passionate about it ever since."
Sonkai Jeweller wills be moving into number 9, in between Stompers shoe shop and Lady B Loves women's clothing. The business joins independently-run Arcadia Jewellers, which stocks designs by contemporary designers such as Lucy Quartermaine inside the Royal Arcade.
The plan is to be open by early December so the business does not miss out on the lucrative Christmas rush.
Inside the Royal Arcade Sonkai Jewellers will continue to focus on the bespoke element of the business, which counts for the majority of sales, and will only sell in-house designs on the shop floor.
All other jewellery currently at Dove Street is on sale.
To emphasis that the business offers a bespoke service, the owner's workbench is going to be placed in a double window space in the arcade, to make it visible to shoppers passing by.
This is Sonkai Jewellers third location in the city, having outgrown its very first unit on Exchange Street, where it traded for five years.
News Source: professionaljeweller