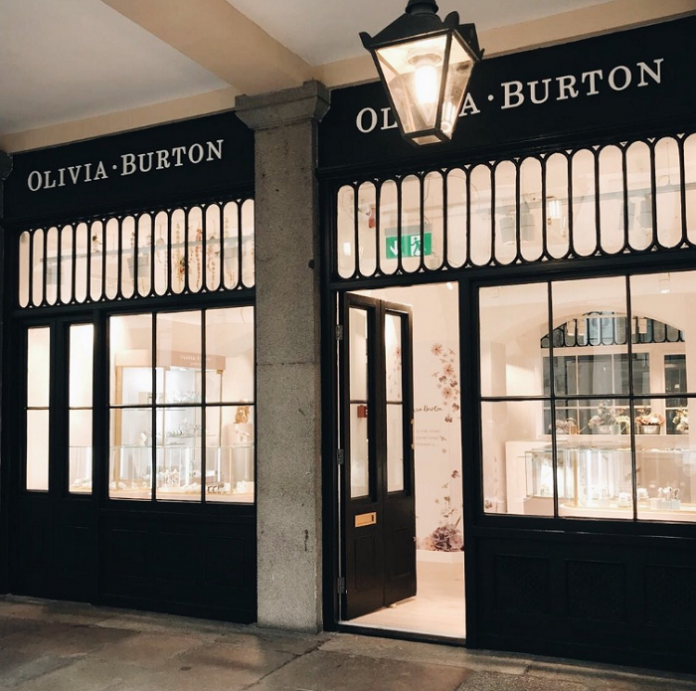 British jewellery and watch brand Olivia Burton has officially opened the doors to its very first bricks and mortar store.
Choosing London's Covent Garden as its debut location, Olivia Burton's first physical retail outlet is a 1200 sq. ft, two-floor boutique, situated in the historic market building.
Last week the brand opened its doors with a soft launch, where consumers could come and discover jewels on the first floor, with the grand opening and unveiling of the second floor set to take place Friday, September 28.
The store design has an iconic Olivia Burton feel, with the brand's love of nature reflected throughout with references to flowers, bee's and birds.
The décor also celebrates the brand's remarkable history from starting at a kitchen to becoming a global success, with inspiring quotes displayed throughout, which Olivia Burton says has been designed to encourage others to follow their dreams.
The debut branded boutique will provide customers with the opportunity to shop the entire Olivia Burton collection in one place for the very first time. The space will also introduce customers to new in-store experiences, including a personalisation station, where customers can create bespoke pieces, and a magic mirror and huggie hoop hub.
Olivia Burton co-founder, Lesa Bennett, shares: "We are so delighted to be able to meet our loyal and lovely customers in person for the first time. At Olivia Burton, our customers are at the heart of everything we do, and we are constantly creating new collections based on their feedback and suggestions. It truly is so exciting."
In celebration of the opening and what the founder's describe as a "dream come true", Olivia Burton will be hosting a 'Dream Garden' over the launch weekend from Friday, Sept 28 – Monday, Oct 1. The pop-up has been designed as a place where customers can go to feel inspired to go after their own dreams and aspirations, whatever they may be.
Olivia Burton Co-Founder, Jemma Fennings, explains: "Seven years ago, my best friend Lesa and I decided to pursue our shared dream of disrupting the watch industry. Some people were quick to tell us that we were crazy to risk everything for a dream, but for every no, there is always a yes just around the corner and we forged ahead regardless. Fast forward to today, through a lot of hard work and determination- Olivia Burton has sold over a million watches worldwide. And now on our seventh birthday, we are launching our very first store- it truly is a dream come true for us."
The Olivia Burton Dream Garden will house three different areas, giving guests the chance to truly reflect on their dreams and aspirations. It will begin with the Inspiration Garden, a space full of some of Olivia Burton's favourite quotes, then visitors will then be invited to step inside a glasshouse to find out more about the brand story and some of the challenges that brand founders Jemma & Lesa faced along the way.
Inside the glasshouse, customers will have the chance to pick a handmade, everlasting flower which acts as a reminder to never let go of their dreams, whilst also reinforcing the craftsmanship behind the brand.
For the must-have Instagram shot, the glasshouse will feature a flower wall which will stand behind the potting table – complete with aprons, seeds and flowers – where guests can plant their own dreams and watch them blossom for the ultimate photo opportunity.
Upon leaving the glasshouse, visitors will come to the last stop – the dream bench. Here, guests will be invited to write their dream on a tag and tie it onto the bench to reaffirm what they want to work towards achieving and inspire others to do the same.
News Source: professionaljeweller.com