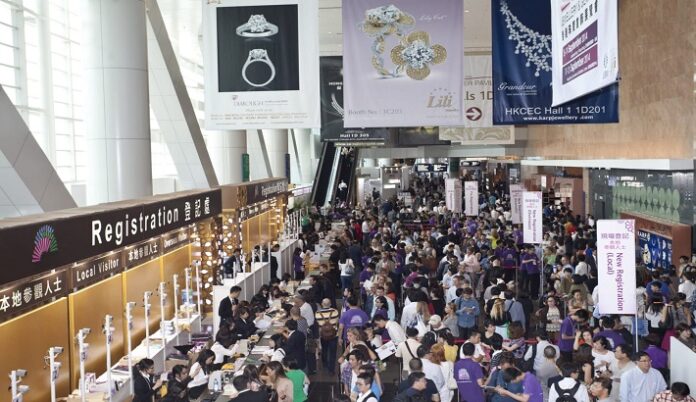 Informa Markets – Jewellery is rescheduling Jewellery & Gem World Hong Kong (JGW), for 9 – 13 September and combining two shows into one to create a 'more compact fair' accessible in one place.
Previously known as the September Hong Kong Jewellery & Gem Fair, JGW was originally set for September at two venues; 13-17 September at the AWE, where precious materials, including diamonds, coloured gemstones and pearls were to be showcased, and 15-19 September at the Hong Kong Convention & Exhibition Centre (HKCEC), the section of the fair usually dedicated to finished jewellery products, packaging solutions, equipment and supplies, and industry-related technologies.
"After careful consideration and a thorough review of all factors impacting JGW in relation to the Covid-19 outbreak, we have decided to organise a more compact fair in one venue this November. This rescheduling was reached with the well-being of our exhibitors, visitors, partners and colleagues as our top priority," said David Bondi, Senior Vice President – Asia at Informa Markets.
Moving JGW to November, however, is said to be a 'one-off arrangement' and is made largely in response to industry partners' requests for a B2B marketplace that will allow them to secure orders before the end of the year.
The event will return to its September slot in 2021, Bondi continued.
"We recognise that the spate of show cancellations and postponements in the first half of the year makes the JGW sourcing experience more important than ever for our industry. It is the last global sourcing event on the jewellery trade show calendar this year, with the heaviest peak selling season just around the corner," he said. "Rest assured, we will take every step available to ensure our participants get the best out of the fair."
Exhibitor contracts and payments made for JGW, along with the special exhibitor benefits under the fair's venue subsidy reinvestment programme announced in May, will carry over to the revised dates.
Exhibitors who do not wish to join the November show may roll over their payments to the September 2021 edition.
The fair organiser is also preparing to launch a customised digital event service later this year, which is designed to enhance the exhibitor discovery experience of its physical shows.
Meanwhile, following up on the postponement of Jewellery & Gem Asia Hong Kong (JGA), Informa Markets – Jewellery announced that it plans to hold the show's next edition in June 2021 in response to the requests of and direct feedback from exhibitors and industry partners.
News Source : professionaljeweller.com