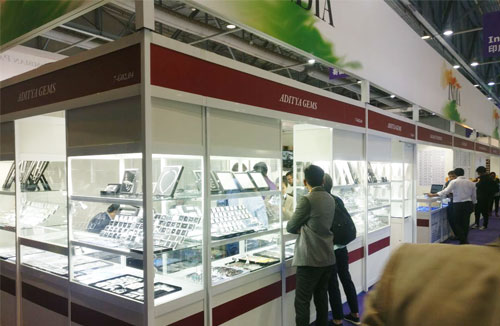 Two strong India Pavilions under the aegis of The Gem & Jewellery Export Promotion Council will showcase loose diamonds, gemstones as well as jewellery manufactured in India at the twin Hong Kong shows, the first of which opened in that city today.
At the 5th Hong Kong International Diamond, Gem and Pearl Show 2018 which opened today in the AsiaWorld Expo premises and runs till March 3, there are 50 exhibitors from India, while at the 35th Hong Kong International Jewellery Show 2018, which is being held from March 1-5, 2018 at the Hong Kong Convention and Exhibition Centre, the India Pavilion will house 33 exhibitors.
Last year over 85,000 buyers from 144 countries and regions visited the shows, which this year have more than 4,480 exhibitors from over 50 countries and regions. The organisers describe the event as the largest jewellery marketplace across the world.
The city state is an important centre of the gem and jewellery trade. Opening the show this morning, HK's Secretary for Commerce and Economic Development, Mr Edward Yau, told participants, "While Hong Kong is already an important market in its own right, I am sure you are also seeing Hong Kong as your gateway to reach a much bigger market in the region."
Benjamin Chau, Acting Executive Director of the HKTDC, which organises the show said, "As global economic conditions improved in 2017, sales of fine jewellery rebounded with the rise in purchasing power. Last year, Hong Kong's exports of precious jewellery grew 3.6 per cent. At the same time, Hong Kong's total exports of pearls, precious and semi-precious stones and raw materials increased by nearly 14 per cent in value."
An important destination for Indian gem and jewellery exports, Hong Kong last year imported a staggering US$ 10.93 billion worth of gem and jewellery products from India, of which cut and polished diamonds accounted for almost US$ 8 billion; gold jewellery for US$ 782.13 million and coloured gemstones for US$ 160.23 million.
GJEPC Chairman Pramod Agarwal said, "Hong Kong has been second largest export market for the Indian gem & jewellery industry. The two shows have been an important platform for the Indian industry. The shows not only help us to expand our reach in the Hong Kong market but also gives access to the key markets of Asia. Every year we make sure that our best manufacturers get this opportunity at India Pavilion to showcase our capabilities in terms of best cuts and jewellery design."
News Source : gjepc.org