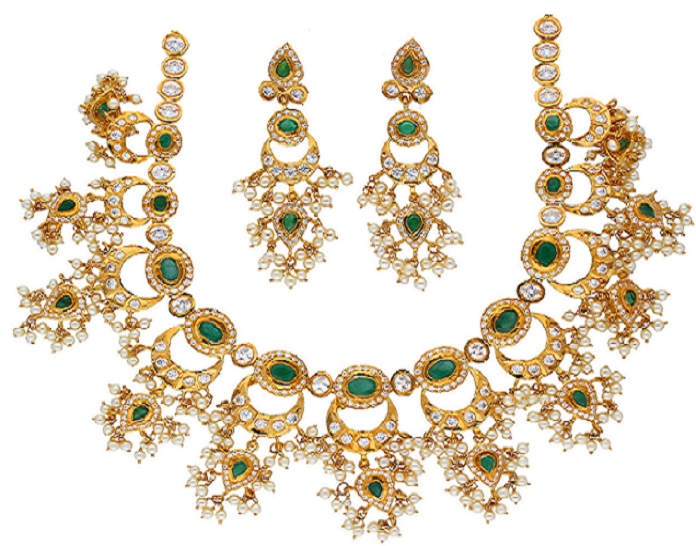 P.Mangatram Jewelers, a leading name in the world of gemstone studded jewelry, showcased its collection for the first time in the United States at JCK Las Vegas 2019. The mega event which was held at the Indian pavilion witnessed a fascinating display of jewelry pieces exclusively crafted for the US market. P.Mangatram Jewelers exhibited the great Indian Jewelry which included the specialized jewelry collection – 'Deccani' which represents the royal culture and taste of the Nizam's of Hyderabad as well as the surrounding deccan plateau region of India in precious gemstones, uncut diamonds collection and also an exquisite traditional collection in plain gold.
The classic Gutta-Pusalu, a piece of heritage jewelry embellished in rubies and emeralds was a runaway hit among the Indian population. The plain gold jewelry of Nakshi and Temple along with the Indo-Italian lightweight collection was widely appreciated by jewelry enthusiasts. Visitors also admired the finesse and craftsmanship of traditional Indian designs like Junagarh, Temple and Pacchi. The response was so overwhelming that the entire collection was picked up multiple times by customers who had traveled from New Jersey, New York, Houston, Los Angeles and other parts of the United States.
P.Mangatram Jewelers creates a wide range of traditional and contemporary pieces and boasts of a loyal customer base across the globe. It has been among the preferred list of manufacturers for top jewelry retailers in India, United States, UAE and United Kingdom. In its endeavor to take gemstone studded jewelry to an international audience, the company will continue to participate in leading shows and exhibitions globally.
The gemstone studded jewelry market in India has grown exponentially over the years. The industry has seen continuous year on year growth despite volatile gold prices. Taking view of growing potential in uncut market and plain gold jewelry, P.Mangatram Jewelers recently launched two new divisions – Meraki and PureGrams. The company has extensively invested in state-of-art manufacturing facilities that include advanced versions of machinery to give the studded jewelry a soft finish and glittering look.
P.Mangatram Jewelers has taken an initiative to preserve the oldest art form of handmade jewelry. The Hyderabad based jewelry powerhouse, renowned for its best ornate pieces understands its responsibility towards the nation and is leaving no stone unturned to preserve its rich heritage. The company celebrates artisanship by partnering with the artisans, empowering them and showcasing mesmerizing pieces of art that have lasting social impact.