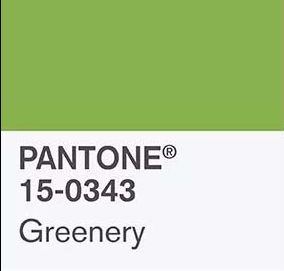 The Pantone Spring 2017 Fashion Color Report serves as an overview of designers' color choices in new clothing collections. The colors are important for jewelers to know so they can help customers successfully color-block accessories. Here are five ways your peers suggest others color-block with Pantone's Greenery.
"Bringing forth a refreshing take, Greenery is a tangy yellow-green that speaks to our need to explore, experiment, and reinvent. Illustrative of flourishing foliage, the fertile attributes of Greenery signals one to take a deep breath, oxygenate, and reinvigorate." —Pantone 
1. Pair purple gems with Greenery for contrast.
"These earrings have deeper shades of green as well as purples that will stand out well against Greenery and add some contrast." —Ayva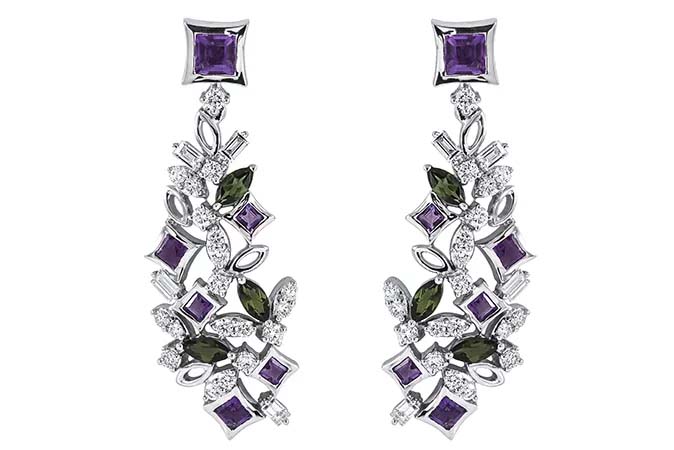 Camilla earrings in 18k gold with 1.35 cts. t.w. diamonds, 1.8 cts. t.w. amethysts, and 0.85 ct. t.w. green tourmalines, $7,800
2. Complement Greenery with a red or pink—a shade opposite it on the color wheel.
"Green and magenta are complementary colors, and we love the way this particular shade of pink tourmaline pairs with this particular green." —Vicente Agor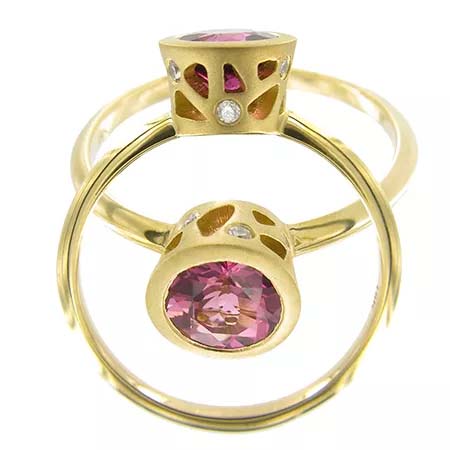 Ring in 18k gold with 0.95 ct. pink tourmaline and 0.06 ct. t.w. diamonds, $2,630
 3. Give Greenery a crisp effect with a gold or silver jewel.
"The yellow gold accent enhances Greenery, while the silver will ensure the necklace is a standout." —ELLE Time & Jewelry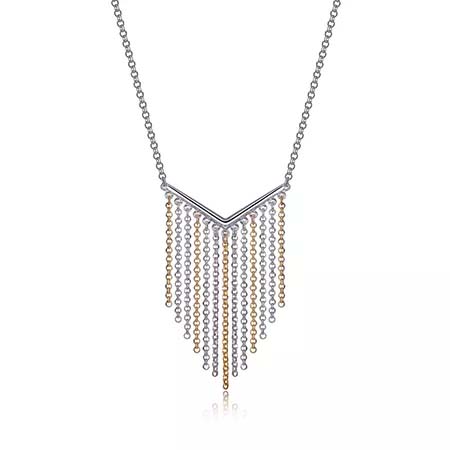 Fringe necklace in sterling silver and 14k gold plate, $150
4. Enhance the lush vibe of garments made in Greenery with a vibrant purple jewel.
"The green onyx and amethyst stones are great color-block buddies. These huggie earrings against Greenery would glisten like a subtle garden! The green onyx is a slightly more opaque gemstone and would suggest a sense of depth against the slightly brighter greenery." —Jewelmak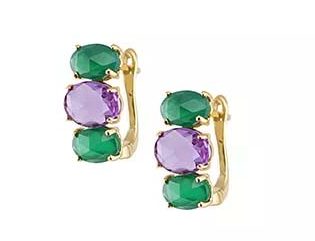 Huggie earrings in 14k yellow gold with 1.74 cts. t.w. green onyx and 1.15 cts. t.w. amethysts, $360
5. Give an analogous color effect by wearing another green jewel with Greenery.
"The rich green emeralds in this gorgeous ring perfectly complement the elegant beauty of Pantone's Greenery."—Beverley K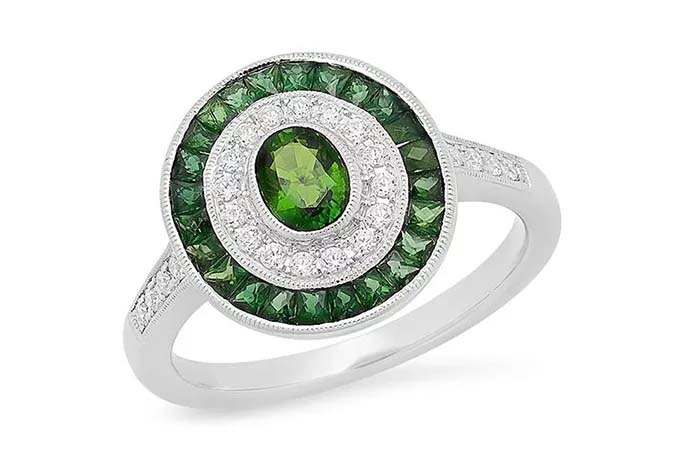 Stunning statement ring in 18k white gold with 0.18 ct. t.w. diamonds, 1.42 ct. t.w. emeralds, $4,279
The Style 360 blog is your editorial source for the newest jewelry, trends, fashion, market analysis, trade show insights, designer's profiles, and more.
– News Source : JCKOnline.com