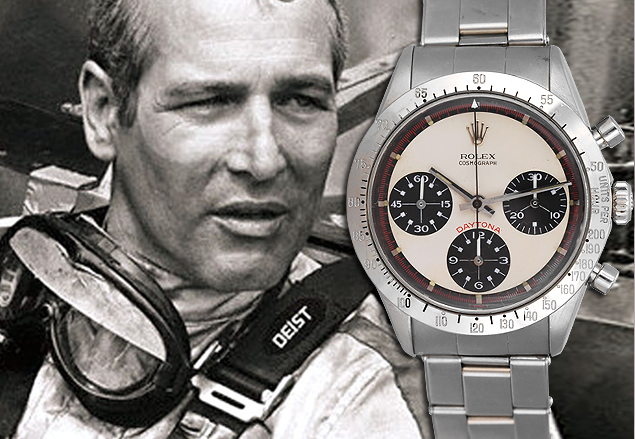 The Rolex Paul Newman Daytona watch—the model the late actor personally wore—was, since 1984, thought to be lost. That year, the actor switched out his daily timepiece for another Rolex Daytona, and the original watch was never seen in public again.
Until this year, that is. It was revealed this spring that the watch had simply been in the possession of Newman's daughter's ex-boyfriend, James Cox. Cox publicly revealed his prized possession in April 2017, giving the watch community quite a thrill. Benjamin Clymer, the founder of watch website Hodinkee, wrote about the watch at the time, "Could this be the most important vintage watch in the world? Maybe."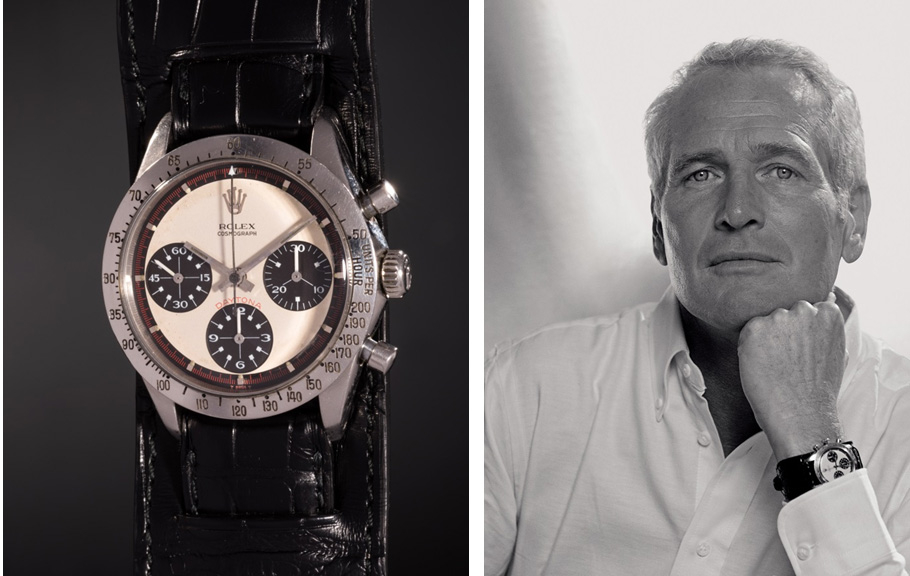 Paul Newman in his Rolex Daytona with Joanne Woodward 
Cox relayed the story of how he came to own it: When Newman once asked him what time it was and he told him he didn't know, and that he didn't even own a watch, the iconic actor took off the Daytona then and there, handed it over, and said, "Here, here's a watch. If you wind it, it tells pretty good time."
And very soon the famous timepiece will be available to the highest bidder. Auction house Phillips is selling the watch as the centrepiece of its inaugural New York Watch auction on October 26.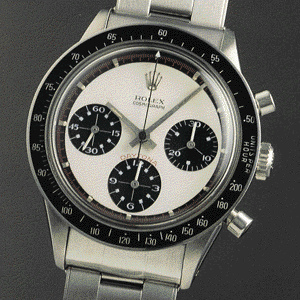 The reference 6239 Rolex is fitted with an exotic dial (it was the first and only exotic dial Daytona Newman wore). And the sales notes on the timepiece report that the watch has been well preserved by Cox the case retains its original proportions, lines and edges.
On the back of the watch is the inscription, DRIVE CAREFULLY ME, which was brainstormed by the witty Woodward.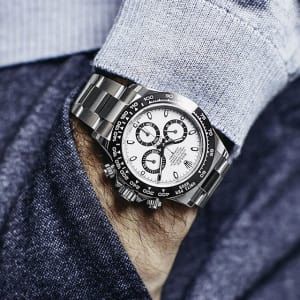 Experts think it was likely purchased at Tiffany & Co. in New York because it has an inventory number engraved on it, possibly by the retailer, on the underside of the left lug. Its dial "has developed a creamy, warm patina that is consistent with its age," according to the notes.
The watch will be sold with a signed letter written by Paul Newman's daughter, Nell Newman, documenting its provenance and her support of its sale. A portion of the proceeds will go to the Nell Newman Foundation and Newman's Own Foundation, in support of Paul Newman's philanthropic initiatives.
The sales estimate for the watch exceeds $1 million.