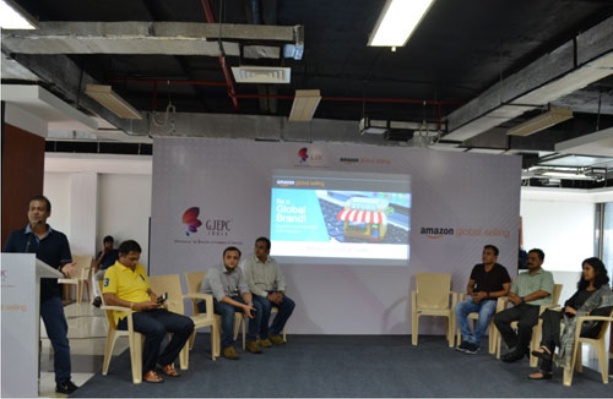 The Gem & Jewellery Export Promotion Council (GJEPC) conducted a seminar to create awareness among jewellery exporters and manufacturers about using the E-Commerce channel to conduct B2C exports from India. The seminar was conducted in association with Amazon.
GJEPC's Executive Director, Sabyasachi Ray welcomed the guests and participants and Vice Chairman Colin Shah spoke briefly on the importance of E-Commerce and his own experiences in this regard.
Parthiv Shah, Senior Business Development Manager and Prateek Gupta, Business Development Manager of Amazon made a presentation on the concept and working of the E-commerce channels. While Shah shared details of B2C export opportunities from India through E-commerce, global markets available for E-commerce, documentation required to sell globally and information regarding the external service providers, Gupta briefed those gathered on how to sell fine / precious jewellery in US Market.
Besides Colin Shah and Sabyasachi Ray, GJEPC was represented by Ashokbhai Gajera, Regional Chairman-Western Region, Bharat Kakadia, Sub-committee member, and Dr.Jitarani Udgata, Asst. Director.
The seminar concluded with a Q&A session.
Pic caption: GJEPC Vice Chairman Colin Shah addressing the seminar
News Source : gjepc.org