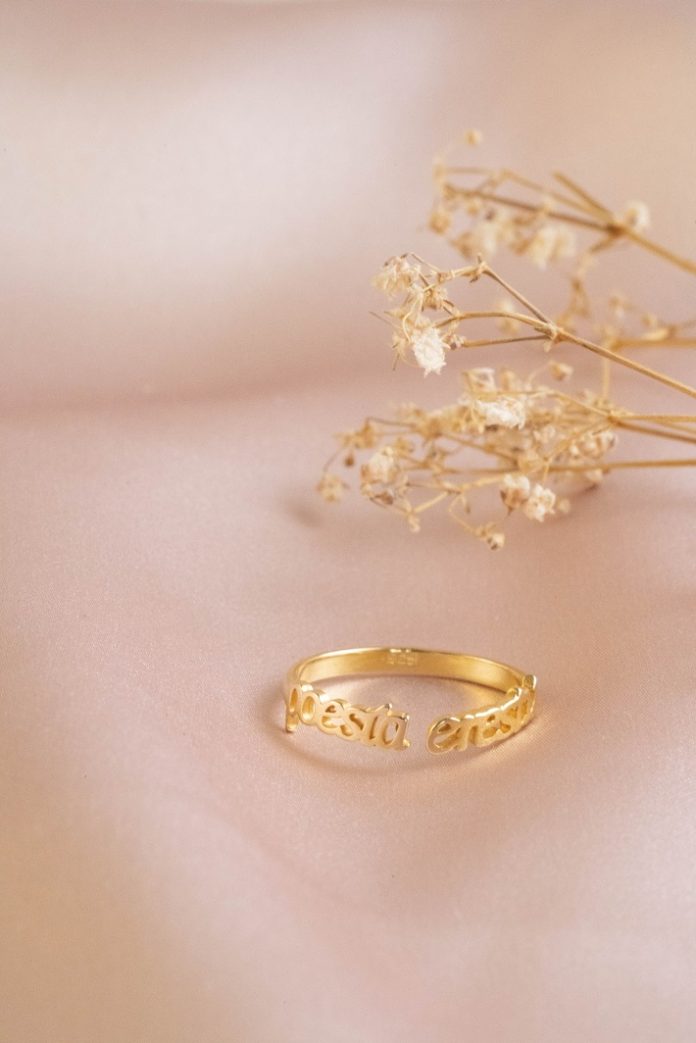 For a long time, people have used jewelry as a means of expressing their personal style and conveying a message. Engraving has been a popular way to customize jewelry, as it allows individuals to add a personal message or symbol to their pieces. Handwritten engraving, in particular, is highly valued as it captures the distinctive handwriting of a loved one, making the jewelry even more special.
Furthermore, a recent report by Transparency Market Research has revealed that there is significant demand for unique and one-of-a-kind jewelry among customers. Customized jewelry, such as handwriting-engraved pieces, satisfies this consumer demand and is a key driver of the customized jewelry market.
In this article, we will discuss the significance of engraving handwriting on jewelry, including the benefits of the process, how to choose the right message to engrave, and the emotional impact that this personalization can have on the wearer.
The Significance of Handwriting Engraving
Engraving handwriting on jewelry is a powerful way to add significance to a piece. Capturing the unique handwriting of a loved one and wearing it on a piece of jewelry can be an incredibly personal and meaningful experience.
Engraved handwriting jewelry is a beautiful and meaningful way for people to carry a message from a loved one with them at all times. It can be an incredibly powerful reminder of a special moment or a cherished memory, even long after that person has passed away.
In a 2022 article published on Join Cake, handwriting jewelry was featured as one of the top gift ideas for preserving the handwriting of a deceased loved one. The article emphasizes that handwriting is a unique and personal aspect of a person that can serve as a powerful reminder of their presence in our lives.
Custom Engraving Services
Custom engraving services offer a unique way to personalize jewelry and add a special touch to a cherished item. These services allow individuals to customize their jewelry with their own personal message, adding an extra layer of meaning to an already special piece.
One of the popular custom engraving services available online is Customcuff, which offers a variety of options for engraving handwriting on jewelry. With Customcuff, customers can choose from a range of fonts and sizes to make their pieces unique. The service also offers engraving on different materials, such as gold, silver, and stainless steel.
It's important to take into account aspects like cost, turnaround time, and customer evaluations when picking a custom engraving provider. Also, it's always a good idea to conduct some research and evaluate several services to choose the one that best fits your requirements and price range.
The Benefits of Handwriting Engraving
There are many benefits to engraving handwriting on jewelry. For starters, it gives a sense of personality to the piece. Capturing the unique handwriting of a loved one makes the piece one-of-a-kind and deeply personal. This is especially important for those looking for a special and meaningful piece of jewelry.
Secondly, handwriting engraving can be done on a variety of materials. From gold and silver to leather and even wood, there are many options for people looking to engrave handwriting on their jewelry. This versatility allows people to create a piece that is unique to them and their personal style.
The popularity of handwriting-engraved jewelry has only continued to grow, as it offers a unique and personal touch to a piece of jewelry.
According to a 2023 article by Page Six, Phoebe Bridgers, the critically acclaimed American singer-songwriter, has recently collaborated with Catbird to launch her own jewelry collection. The collection features several unique and stunning pieces, including a delicate moonstone charm with Bridgers' handwritten lyric "I'd give you the moon" engraved on the back.
This collaboration between Bridgers and Catbird is just another example of how personalized jewelry has become increasingly popular in recent years as people seek to express themselves through their fashion choices.
Choosing the Right Message
Choosing the right message to engrave on a piece of jewelry is incredibly important. It should be something that has special meaning to the person wearing the piece. It could be a name, a date, a quote, or a special message, but it should always be something that has personal significance.
It is important to consider the length of the message when choosing what to engrave. Some pieces may not have enough space for a longer message, so it is important to choose something that fits within the available space. Additionally, it is important to think about the font and the style of the engraving. Some people prefer a more traditional script, while others may prefer a more modern font.
Conclusion
In conclusion, engraving handwriting on jewelry is a meaningful way to personalize a piece and make it truly unique. It captures the essence of a loved one and allows the wearer to keep them close at all times. Custom engraving services offer a range of options to create a personalized piece that fits the wearer's style and preferences.
Choosing the right message is crucial, as it should be something that holds personal significance and fits within the available space. Handwriting engraving is a powerful way to add an emotional touch to a piece of jewelry and create a cherished keepsake.