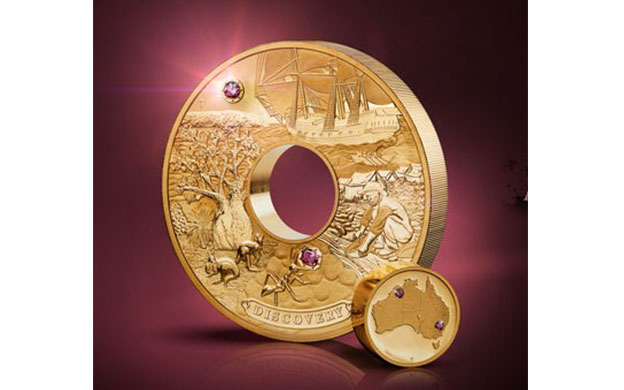 Western Australia's Minister for Mines and Petroleum Bill Johnston today unveiled what is being described as "Australia's most valuable collector coin", a 2 kg gold coin studded with Argyle pink diamonds, and priced as A$2.48 million.
The coin, manufactured by The Perth Mint, is a single edition item and is called Discovery, as it pays a tribute to the discoveries in Australia of two of the world's most treasured natural riches, gold and pink diamonds, the mint said.
It is crafted in two kilos of 99.99 per cent pure gold, and features four rare Argyle pink and purplish-pink diamonds. According to media reports, the diamonds are estimated to cost A$1.7 million.
Two of the stones are from the Argyle Pink Diamond Signature Tender, the larger one, a fancy vivid purplish pink 1.02 ct diamond of SI2 clarity and the other a 0.88 ct pink brilliant cut diamond of SI1 clarity. The other two are fancy intense to vivid pink diamonds of SI1 clarity each weighing 0.08 cts.
The coin was inspired by the holey dollar, Australia's first currency in 1814. It is in two parts, the outer and inner coin, as the name suggests. The outer façade shows a sailing ship and diggers in a rowboat, a prospector, boab trees, kangaroos and the Kimberley region. The inner coin, otherwise known as the heart, has two more pink diamonds which marks the location of Ophir, where gold was first found, and the Argyle Diamond Mine, reports state.
The coin will be on display at The Perth Mint until September 28 unless sold earlier.
Pic: courtesy The Perth Mint
News Source : gjepc.org