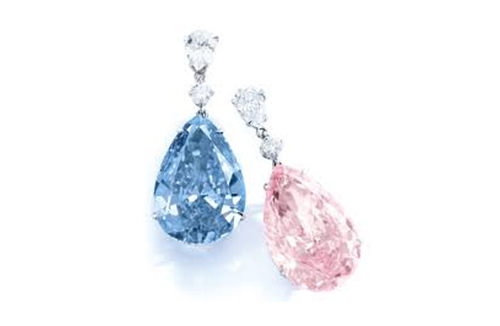 Setting a new world record, two earrings set with the Apollo and the Artemis diamonds sold at a combined total price of US$ 57,425,478 at Sotheby's Magnificent Jewels and Noble Jewels, Session 3 held in Geneva yesterday.
The two earrings, bought by a single anonymous buyer, were renamed The Memory of Autumn Leaves and The Dream of Autumn Leaves. The former – earlier known as the Apollo diamond — is described as a "superb and extremely rare fancy vivid blue diamond". It has a pear shape, is internally flawless and weighs 14.54 carats and has a Type II b classification. This diamond earring sold for US$ 42,087,302.
Formerly known as the Artemis, The Dream of Autumn Leaves is a very important fancy intense pink diamond. It is also pear-shaped, has a VVS2clarity grade, and is classified as a Type IIa diamond. This gem was sold for US$15,338,176 .
Both diamonds are accompanied by a GIA certificate.
The same sale also set an auction record — and a record price per carat — for a fancy intense purplish pink diamond of 7.04 carats which was sold for US$ 13,275,750.
Total sales proceeds of the Magnificent Jewels and Nobles Jewels, Geneva auction amounted to US$ 151,546,458.
Speaking after the sale, David Bennett, Worldwide Chairman of Sotheby's International Jewellery Division and Chairman of Switzerland commented: "It has been a privilege for Sotheby's to be entrusted with the superb 'Apollo Blue' and 'Artemis Pink', which have now been renamed 'The Memory of Autumn Leaves' and 'The Dream of Autumn Leaves'. The results from today's sale – which saw more than 90 per cent of lots sold and three new world auction records – yet again underline the strong demand for top quality diamonds, gemstones and jewels. I am delighted that the stones will remain together as earrings. This has been a wonderful inaugural jewellery sale at Mandarin Oriental, Geneva which far exceeded expectations, with a total of over $150 million. We are greatly looking forward to the upcoming auction of Fine Jewels at Sotheby's rue Diday in Geneva on the 1st of June."
The Apollo and Artemis Diamonds set as earringsDiamond Earrings Sets New World Record
News Source : gjepc.org