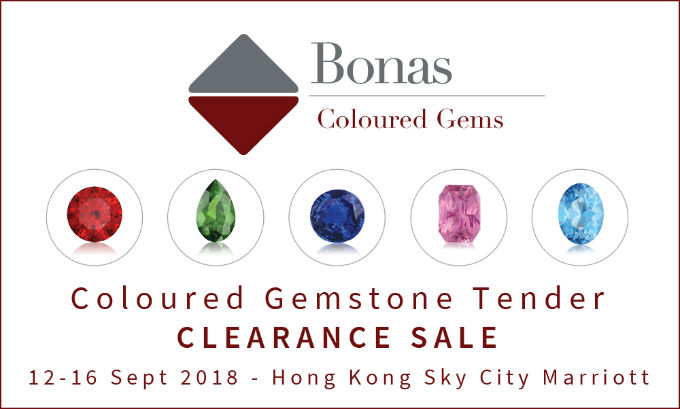 After a successful auction last year, Bonas Group is once again holding a coloured gemstone tender on the sidelines of the September Hong Kong Jewellery & Gem Fair from September 12 to 16.
The sale will feature a total of 522 lots comprising 151 emerald parcels of approximately 30,500 carats; 168 parcels of blue sapphires of about 83,000 carats; 20 parcels of pink sapphires of around 18,400 carats; 34 ruby parcels of about 28,370 carats; 13 yellow sapphire parcels of about 5,300 carats; 119 parcels of aquamarines of roughly 170,200 carats; and 17 parcels of star blue sapphires of nearly 16,700 carats.
Viewings will take place from September 12 to 16, from 9:30am to 5:30pm in the boardrooms of the Hong Kong SkyCity Marriott Hotel. The sale will close on September 17 at 11am, Antwerp time (5pm in Hong Kong).
For viewing appointments, please contact Henry Lam in Hong Kong at 6777 0389 or the Antwerp office at +32 03 233 70 80 or e-mail: BonasGolouredGems@Bonasgroup.
News Source : jewellerynet.com