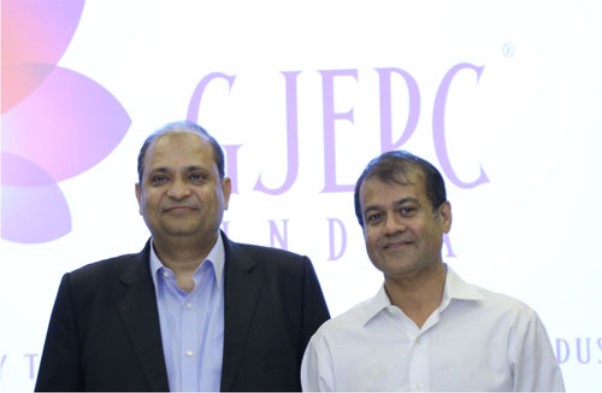 Announcing results of the elections, The Gem & Jewellery Export Promotion Council said that Pramod Kumar Agarwal has been elected as Chairman and Colin Shah as Vice Chairman of GJEPC for the period from 2018 to 2020. Both have been working in the industry for a number of decades, and have held various positions of responsibility in GJEPC committees over the years.
Expressing his thanks to the members of the GJEPC, the new Chairman Pramod Kumar Agarwal said, "I am committed to developing a favorable environment for the gem & jewellery trade and business during my tenure. We will give special emphasis to working closely with the government and the trade to develop a definitive and stable tax regime for the diamond industry through presumptive taxation. Reduction in GST rates for cut and polished diamonds and withdrawal of GST on supply of gold & silver for export orders, are some of the other key issues we will focus on."
Agarwal also said that he would explore new resources for rough diamonds and coloured gemstones to streamline supply, and continue the generic promotion campaigns for diamonds and jewellery. "It would be my sincere effort to work closely with the industry and the government to bring in reforms that would provide Indian industry a competitive edge in the world market."
He also stressed the importance of the MSME sector and said that he would work towarrds facilitating better infrastructure in the form of Common Facility Centres and Jewellery Parks to enable easy access to latest technology that will enhance production in terms of both quality and quantity. Agarwal added, "Currently, the industry is at a juncture where it needs to be more organized and transparent in terms of doing business which would help it to achieve a more dynamic role in our economy."
Vice Chairman Colin Shah said, "I believe that to achieve the next level of growth and to be competitive in the world market, the Indian gem and jewellery industry needs a complete transformation. For example, improved infrastructure by setting up Jewellery Parks across the country, modernization of GJEPC's educational institutes by setting up a Jewellery University, and improving the industry's image with banks and the government are some key issues. We will work towards bringing in policy reforms that are conducive for the trade and business."
The following were declared elected unopposed as respective Regional Chairmen: Western Region – Ashok Gajera; Gujarat Region – Dinesh Navadia; Rajasthan Region – Nirmal Kumar Bardia; Eastern Region – Prakash Chand Pincha; and Southern Region – Mahendra Kumar Tayal. Ashok Sheth was elected as the Regional Chairman for Delhi.
Members elected to the Diamond Panel are Manish Jivani, Milan T Choksi and Sanju S Kothari.
The following were declared elected unopposed: Russell A. Mehta – Diamond Panel; Rambabu Gupta – Silver Jewellery Panel and Vijay Kedia – Coloured Gemstone Panel.
Pic caption: GJEPC's new Chairman Pramod Kumar Agarwal and Vice Chairman Colin Shah
News Source : gjepc.org