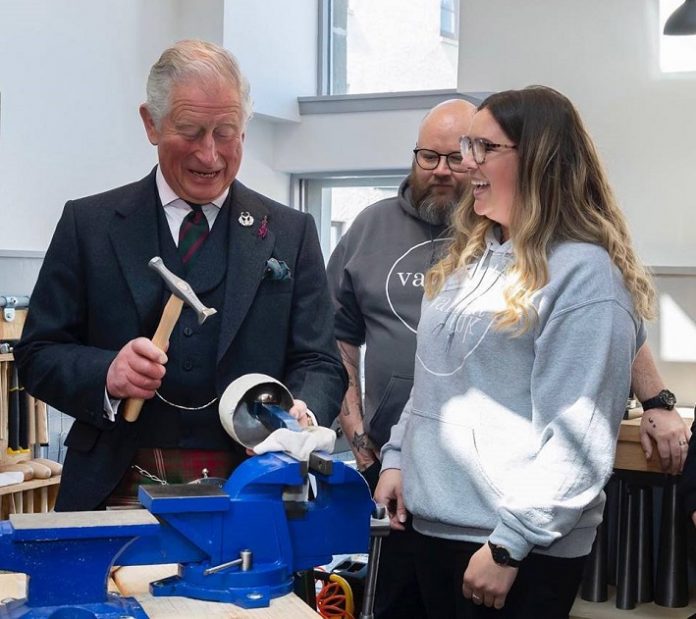 The Prince of Wales tried his hand at silversmithing during a visit to Banff, Scotland.
As part of a royal tour, Prince Charles visited Vanilla Ink's second jewellery school location, which opened in September after six months of work to renovate the Auld Smiddy into a skills base for workshops.
Founded by Vanilla Ink business partners, Kate Pickering and Scott McIntrye, the Smiddy Centre of Excellence for Silversmithing and Jewellery offer classes for beginners, intermediate, advanced and professionals.
It is also a social enterprise bringing silversmithing and jewellery opportunities to Disadvantaged Young People in Scotland – an aspect that caught the royal's eye.
To mark the Prince of Wales' visit, the school presented him with a quaich, which had been made at the centre, before silversmith Megan Falconer introduced him to some of those taking part in a session with him.
During his visit, Falconer showed Princes Charles how to planish – smooth and finish – a communal bowl, handing him a hammer so he could get to work.
Vanilla Ink wrote about the event on Facebook: "Today HRH Prince Charles visited us, what an honour and, honestly, what fun… Big thanks to all involved in organising and thanks to our invited guests for coming along and supporting us."
The Smiddy has been launched as part of the wider regeneration of Banff, and it is hoped visitors from across the country will be tempted to try out the traditional skill.
It was funded by the Banff Conservation Area Regeneration Scheme, Creative Scotland, the Scottish Government, Historic Environment Scotland and Aberdeenshire Council.
During his visit, Prince Charles unveiled a plaque at the centre to mark it officially open and signed the guest book.
He then walked through the town to Banff Museum, where he viewed the collection of local silverware.
NewsSource: professionaljeweller