New York, August 2, 2021: The Fancy Color Research Foundation (FCRF) announced today the results of the Q2 2021 Fancy Color Diamond Index (FCDI). Prices of Fancy Color Diamonds across the board increased by 0.2% during Q2 2021. Blues (0.4%) and Pinks (0.3%) led the increase, while Yellows rose by 0.1%, as opposed to the slight decrease in the previous quarter. The price rise follows a 0.3% overall price increase in Q1 2021.
Pink
Pink diamond prices rose by 0.3% in Q2, mainly due to an increase of 0.6% in the Fancy grade category, with 2 and 3 carat Fancy Pinks rising by 1.6% and 2%, respectively. The 1 carat Fancy Pinks were the highest climbers in the Pink category (2.2%), while 10 carat Fancy Pinks showed a downturn in price, decreasing by -1.1%.
Blue
Blue diamond prices presented an overall increase of 0.4%, following an appreciation of 0.8% in the Fancy grade category. The 1.5 and 2 carat Blues, in all saturations, showed the highest increase (1.3%), with Fancy Blue 1.5 carats rising by 1.7% and Fancy Intense Blue 1.5 carats rising by 2.2%. Meanwhile, 3 and 5 carats in all saturation levels slightly declined by -0.2% and -0.1%, respectively.
Yellow
Yellow diamonds remained stable in Q2, with an increase of 0.1%. Most segments performed better in Q2 compared to Q1. The most prominent increase was in 5 carat Fancy Vivid Yellow (+1.3%). Fancy Vivid Yellow in the 10 carat category were a close second highest climber by 0.9%, while 10 carat Fancy Yellow presented a drop of -2.1%.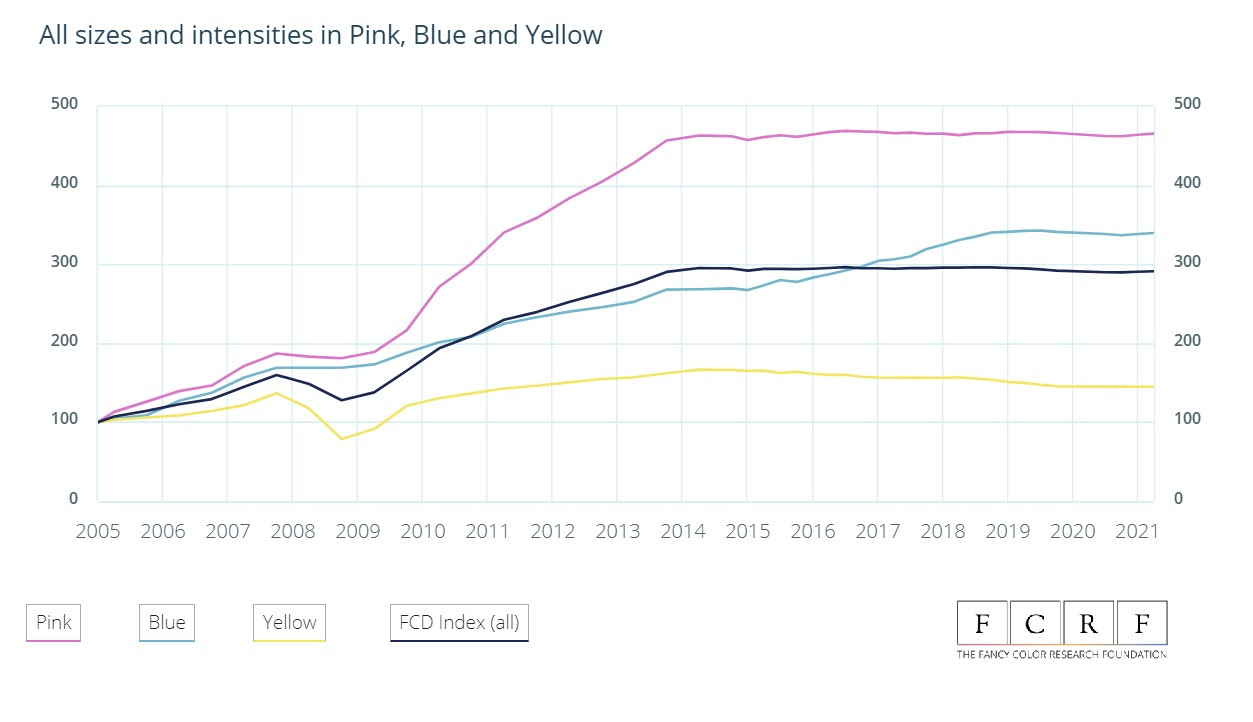 FCRF Advisory Board member, Oren Schneider, CEO of Circa, said: "As retail in the US, Asia and Europe copes with the new realities and constraints of a COVID-economy, we are still seeing supply shortages in the Fancy Color Diamond segment that provide pricing stability. Inventories are still at a historically low level for this product."
The Fancy Color Diamond Index is published by the non-profit Fancy Color Research Foundation (FCRF), tracking pricing data for Yellow, Pink, and Blue Fancy Color Diamonds in major global trading centers – Hong Kong, New York, Geneva and Tel Aviv.
About the FCRF
The Fancy Color Research Foundation (FCRF) works to provide fact-based support for Fancy Color Diamonds as an asset class and to empower Fancy Color Diamond sellers through a new information channel that improves consumer experience.
The FCRF:
● Provides its members with unique analytical tools and innovative services: pricing data, rarity data, B2B valuations, auction analysis, and commercial research.
● Promotes a fair and transparent buyer experience through the Fancy Color Diamond Price Index.
● Offers members a proprietary ability to analyze and compare Fancy Color Diamond rarity.