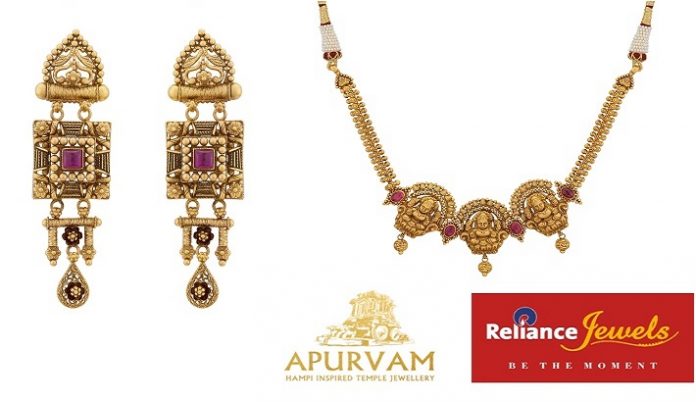 Mumbai: Reliance Jewels, one of India's most trusted jewellery brand has unveiled its latest 'Apurvam Collection' recently. Inspired by the grandeur of Hampi & some famous temples of Karnataka and Kolhapur, the collection showcases a mix of palatial gold designs along with suave gems. The intricately crafted jewellery collection of intricate Necklace sets in pure gold can be worn for every occasion, enhancing the presence of the person wearing it.
The intricate designs are crafted with precision, bringing out the architectural marvels in Hampi. One can witness the famous Chariot, the outer structure of Lotus Mahal & arches, the Stepwell, the 11 domes of the Elephant stable in Hampi & other ornate motifs imbibed within the collection have created some extraordinary masterpieces, making it the ideal choice for women to wear and brighten up the ambiance with their graceful presence. In addition to this, the symbolic use of various carvings found along the temples situated in Karnataka & Kolhapur is a few of the other embellishments in this signature collection. This skillfully handcrafted collection is exclusively available across all Reliance Jewels flagship showrooms in India.
Highlighting the launch of this signature collection, Mr. Sunil Nayak, CEO, Reliance Jewels said, "The collection has been inspired from the architectural masterpieces of Hampi & the intricate carvings from the temples of Karnataka and Kolhapur. Each piece is crafted in a way that elevates the appearance of a woman by adding a graceful touch & further highlights the unique designs that are part of this Temple Jewellery collection."
About Reliance Jewels:
At Reliance Jewels, gold and diamonds are available at the most competitive rates. Zero-wastage and competitive making charges ensure 100% satisfaction for customers. Reliance Jewels have stores across 62 cities and are expanding exponentially. With a spectacular variety of designs in its collection, Reliance Jewels have an ornament for every personality and every occasion. Reliance Jewels assures 100 percent purity, transparent pricing and guaranteed quality in every piece. The brand only deals in 100 percent BIS Hallmarked Gold and every diamond used is internationally certified by independent certification laboratories. All Reliance Jewels showrooms have QC Tech Rooms for repairs & Karat Meters for customers to assess the purity of gold free of cost. Apart from this the brand also offers loyalty points on every purchase.