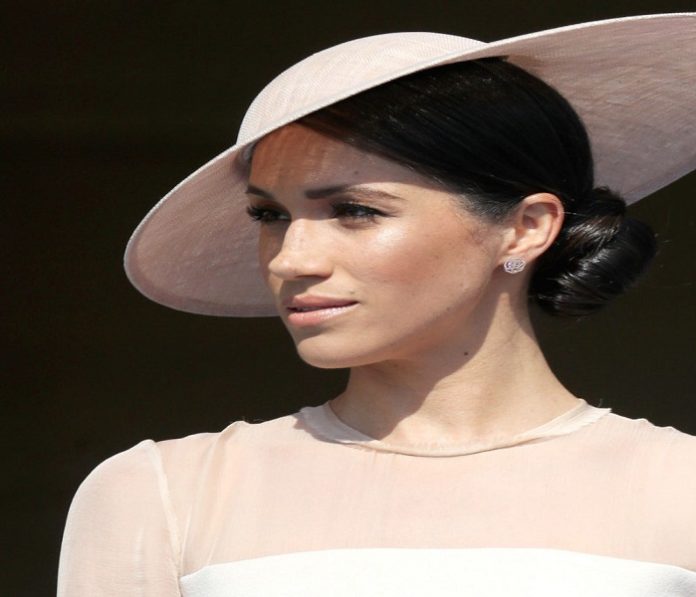 Before Meghan Markle walked down the aisle and said 'I do' to Prince Harry and a life as a member of the Royal Family, the American actress had been commended for wearing accessible fashion jewellery pieces.
However, for the big day the now Duchess of Sussex showed diamonds really are a girl's best friend (wearing a tiara from the Queen's vault and Cartier diamonds) and has since been spotted wearing more higher-end designs.
For example, at Prince Charles' 70th birthday bash, just a few days after the wedding, she wore a new pair of rose gold and diamond earring by Paris-based jeweller Vanessa Tugendhaft, which – although priced at £2,200 – sold out quicker than any other piece of jewellery she has ever worn (10 minutes!).
At the Trooping of the Colour everyone was quick to notice new rings on her fingers as Ms Markle practiced the royal wave. Once again, these were diamond adorned, highlighting the new royals move into finer jewellery designs.
While it's not to say she will never again be seen in accessible jewellery pieces, it is expected that this will now be less likely.
Here, jewellery experts highlight trends set to emerge due to the 'Meghan Markle' effect, and how retailers can captalise on her influence…
Personalisation lift
Domino Jewellery commercial director, Newton-Sherlock, describes Meghan Markle's general jewellery look as classic and personal, a style many British jewellers should be able to cater to. She tells Professional Jeweller: "Meghan is certainly far from adventurous when it comes to jewellery choices. That said, she clearly loves wearing jewellery and it is evident that sentiment plays a big part in her choices around the pieces she wears. We've seen this in the story of her engagement ring, her 'H' and 'M' necklace and multiple other pieces that have a personal connection or meaningful story behind them. Today's
consumer seeks an emotional connection with goods and experiences and Meghan is no different."
Personalisation has been a growing trend, and one the royal couple is championing too. From emotional touches such as the 'H' and 'M' necklace Newton- Sherlock mentioned, to getting involved in design – as seen by the royal engagement ring and Meghan Markle choosing bespoke bracelets as gifts for her best friends on the day – the happy couple are showing the nation how to add a personal touch to popular products.
Classic by day, statement by night
Sara Prentice, creative director at Garrard, adds on the royal's style: "Meghan often wears smaller, understated pieces for a more classic daytime look, and builds up to statement jewellery for night wear, as she did on her wedding day."
Meghan Markle combines traditional jewels with more modern designs, but, aside from a couple of pieces worn on her wedding day, she often airs on the side of modesty with her accessories. This is good news for British jewellers, many of whom have windows adorned in tiny and delicate pieces, however, as Meghan Markle is unafraid to wear a statement piece to make an impact, retailers should not shy away from doing the same in their store windows. Popslanka echoes: "She mixes edgier styles by Shaun Leane and Birks with classy diamond pieces and vintage jewellery. I always look forward to seeing what she is going to wear next. She is very bold and modern in her choices. Most importantly she has fun with it —she looks perfectly natural wearing two different style earrings in each ear."
Mix and Match
Based on what we have seen so far from Markle experts say it's clear she is a woman who does not like to wear full collections, but instead chooses select pieces. Whether mixing and matching jewels from the same brand, but different ranges, or wearing a variety of designers at once, jewellery forms part of her overall look and what matters is that it goes with what she is wearing, rather than forming part of a commercial set. Within this, she often wears stacking rings and even midi rings, layered necklaces, and climber earrings. This is a modern take on jewellery styling, which shop floor staff can encourage customers to embrace too.
Art Deco
Last but not leave, Newton-Sherlock from Domino believes Art Deco will have its moment thanks to Meghan Markle's choice of tiara on her wedding day. She explains: "Given Meghan's bridal jewellery choices, I am confident that Art Deco pieces with clean lines and simple aesthetic will continue to grow in popularity. I also believe we might see a temporary resurgence of the classic cocktail ring and an increase in the demand for aquamarine pieces following the show-stopping ring she wore to the wedding reception."
News Source: professionaljeweller.com