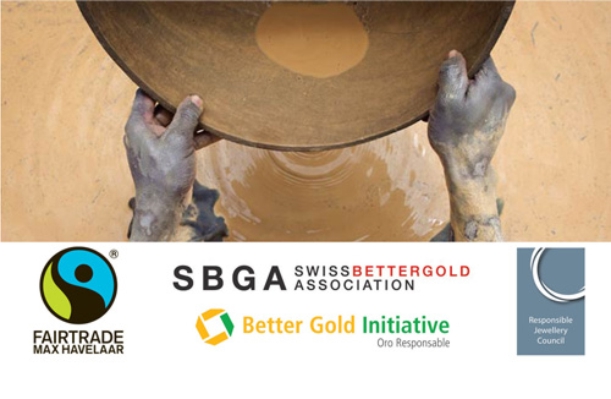 The Responsible Jewellery Council (RJC) and three Swiss industry initiatives – the Swiss Better Gold Association (SBGA), the Better Gold Initiative for ASM (BGI), Max Havelaar-Foundation (Switzerland) (MHCH) for Fairtrade – has signed a Memorandum of Understanding to significantly increase the volume of Artisanal Small-scale Mined (ASM) gold to the market.
Sharing a commitment to scale the supply of responsible gold from artisanal small-scale mines to Switzerland from Peru, Bolivia and Colombia, the four organisations will support the production of five (5) tons of responsibly produced gold and its entry into 'ethical' gold markets by 2020 through multiple initiatives.
The partners believe that the positive impact of the collaboration far exceeds that which any one organisation could achieve acting alone. The agreement recognises that greater co-operation is in the best interests of all parties, including the ASM operators.
They state that this "public-private partnership' has developed compelling incentives for responsible ASM operators to participate in certification for at least half (2.5 tons) of the gold produced while the SBGA/BGI programme of work will support the formalisation of up to 50 artisanal mining operators.
This step is rooted in the understanding that when carried out responsibly, the potential for the ASM gold sector to be a powerful driver of community based and environmentally sound development in some of the poorest places in the world has been clearly demonstrated. A necessary step towards a socially responsible and ecologically sound industry is the legalisation/formalisation of mining operations to improve their efficiency and productivity and to meet social and environmental operating standards.
Wanting to improve the situation of ASM miners, the BGI for ASM was set up in 2013 with support from the Swiss State Secretariat for Economic Affairs (SECO). In a statement from SECO, Monica Rubiolo, Head of Trade Promotion, congratulated the parties' signing of the MOU saying, "I am convinced that this is an important step towards a more strengthened collaboration in the field, which will benefit the artisanal and small-scale miners in Peru, Colombia and Bolivia."
Fabian Waldmeier, Director of International Cooperation at MCHC, working to promote Fairtrade products to the Swiss market, also commended the agreement saying, "The signing of the MOU marks an important cornerstone for our work in gold as we believe that collaboration is needed to expand the reach and hence the impact of all the different initiatives working in the ASM gold sector including ourselves."
The agreement will enable the parties to communicate a coherent and collective vision to the "downstream" market of the importance of, and means by which, to develop responsible ASM suppliers. Laurent Favre, SBGA President added his endorsement saying, "This agreement sets a solid basis for dialogue and collaboration both on the corporate and the field levels; a collaboration which will primarily benefit artisanal and small-scale miners, the ultimate beneficiaries of all our efforts".
Andrew Bone, Executive Director of the RJC said, "Through this collaboration, we will work closely to promote sustainability and ethical business practices in the jewellery supply chain. Together we can leverage each other's knowledge and expertise regarding the challenges and issues the industry faces to instil a responsible supply chain and promote consumer confidence in the watch and fine jewellery industry. We are looking forward to a rewarding and mutually beneficial collaboration between our organisations."
News Source: gjepc.org