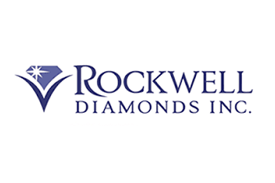 Due to the cessation of mining activities at Saxendrift and Remhoogte-Holsloot (RHC) and with the sole operation, Wouterspan (WPC), being still in ramp-up phase, Rockwell Diamonds Inc. has seen a huge impact on its revenues for Q4 2017 and FY 2017 (quarter and year ended February 28, 2017).
The Company reported that rough diamond revenue for FY 2017 declined to C$ 26.1million from revenues of C$ 37.7 million generated in FY 2016; a fall of 31%. This reflected a dramatic fall in number of carats sold as well – from 18,976 carats in the previous year to 12,789 carats in FY 2017; a reduction of 33% in carat sales.
For the year, the Company earned Beneficiation revenue — through the profit share agreement with Diacore — of C$ 4.4 million, which marked a decrease of 55% over the revenue of C$ 9.6 million received in FY 2016.
"Gross (loss)/profit before amortization, depreciation and rehabilitation was C$(3.5) million compared to a gross profit of C$0.7 million for FY2016," the Company reported. "This was the result of significantly reduced sales, offset by production cost savings."
For FY 2017 loss attributable to owners stood at C$ 14.5 million as compared to a loss of C$ 28.3 million for FY 2016. "For the first three quarters of FY2017 substantial losses were incurred at Saxendrift and RHC, which losses were dramatically reduced by ceasing production at these entities, together with a substantial reduction in the cost base during Q4 FY2017," the Company said. "The two loss-making operations were successfully disposed of in Q4 FY2017, generating much needed cash and reducing overall liabilities with the purchaser absorbing certain staff."
The decrease in revenues for Q4 2017 stood at a whopping 90% with earnings touching C$ 987,000 in the period as compared to revenues of C$ 10.3 million earned in Q4 FY 2016; while beneficiation revenue reduced to C$ 69,000 as compared to beneficiation revenue of C$ 185,000 received in Q4 FY2016.
Commenting on the FY2017 and fourth quarter performance, Tjaart Willemse, Chief Executive Officer said: "On 20th November 2016 the Board passed a special resolution approving a financing package of US$ 8 million designed to fund a repositioning and development plan with the objective of returning Rockwell to normal commercial operations. Despite the additional challenges brought about by the various legal attacks, we have made good progress against the milestones set back in November 2016. This includes a successful restructuring exercise, a substantial reduction in off-mine and total operating costs, and completion of the construction of the Wouterspan mine infrastructure and processing plant."
Rockwell also announced the appointment of Johan Oosthuizen as Interim CFO effective June 1, 2017, who replaces Patrick Cooke whose term has expired. Oupa Sekhukhune was appointed as a Company director effective June 1, 2017, replacing Richard Mhlontlo who has resigned.
News Source: gjepc.org