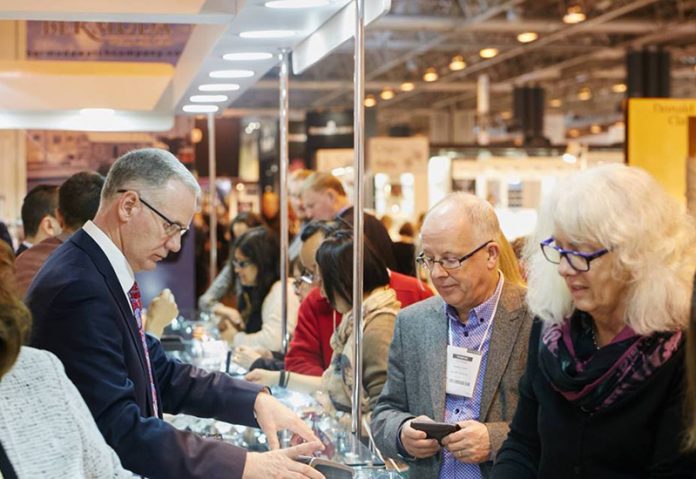 In partnership with Jewellery and Watch, the National Association of Jewellers will be hosting five 'Meet the Expert' events on the NAJ stand throughout the show.
The sessions have been devised in a direct response to what's happening in the business environment and what could affect jewellery industry businesses in 2018.
Here, the NAJ reveals the topics and times:
Sunday: Communication skills for selling luxury by Lee Lawson of Lee Larson Associates
Session description: Communication is the key to sales. It is surprising how many sales people communicate more on a sub-conscious rather than conscious level. This is a common trap and often results in plateauing sales figures, meet Lee to learn how to communicate effectively in a sales situation.
Monday: Using data to increase sales and improve profitability by Michael Donalson of The Value Innovator
Session description: There are risks to any business when it is run solely on opinion, after all an opinion without data, is just another opinion. There are also risks to your business if you rely solely on data, after all it needs interpreting. Yet what can you do if there's little or no data available to help guide your decision making or its simply too expensive to purchase.
In this brief session Michael will share with you how you can generate valuable data yourself and how best to analyse and apply it to your business with confidence.
Tuesday: The advice your business needs by Jo Henderson of JHJ Consultancy
Session description: For those of us that run small businesses, the help and guidance we receive from mentors and the tips and tricks we learn from our peers can save us time and gives us the confidence we need to succeed. The Better Business group can advise on a range of topics from responsible sourcing to brand management. In this session you can ask Jo to advise you, come along with your questions and find out how the Better Business group can help your business to do well, do right and do good.
Wednesday: Business savvy social media by Christine Colbert & Sophie Hickey of House Creative – Digital Agency
Session Description: With 1 in 7 people on the planet now on Facebook it's essential that brands and businesses jump on the bandwagon. But it takes more than just signing up to make your social media a success. House are giving away their social secrets on everything from content plans, customer complaints, and conversation territories, to help increase your online engagement.
Thursday: Everything you need to know about GDPR by Chris Blunt of Broken Stones
Session Description: If you collect customer details, if you employ staff or if you record CCTV, the new GDPR regulations will effect you. GDPR has worrying signs of being the new PPI Claim of 2018 – and this time rather than it being the banks that are taking the hit, it could well be businesses like yours. So whether you believe you have a moral obligation to protect peoples personal information or you just want to make sure you protect your business from attack, criticism and being tied up in legal wrangling's, join Chris to understand how you can prepare. Getting prepared is not that difficult and not that scary. There is some clear documentation you need to put in place. There are some simple things you need to do to make sure your IT systems are protected. There is some training you need to give your staff and there is some information you need to give out.
News Source : professionaljeweller.com