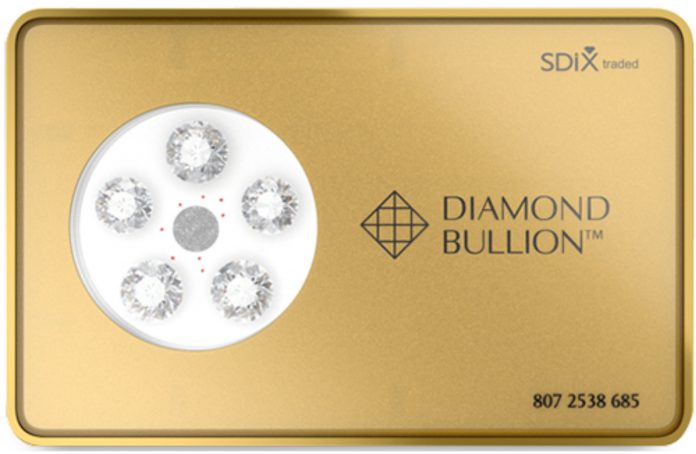 The Singapore Diamond Mint Company (SDM) has launched Diamond BullionTM, a credit card-sized package of investment-grade polished diamonds that, it describes as being highly portable, liquid and fungible. The product will be exclusively listed on the Singapore Diamond Investment Exchange (SDiX), with diamond verification services provided by the International Institute of Diamond Grading & Research (IIDGR), part of De Beers Group, using its proprietary technology. The IIDGR technology will ensure the diamonds' authenticity, product security and traceability via a mobile app, according to a statement from the Mint.
The Diamond Bullion is available in two case colours of Silver and Gold of standard denominations of approximate values of US$ 100,000 and US$ 200,000 respectively. The polished diamonds are contained in a tamper-resistant sintered zirconia case.
IIDGR will inscribe a unique identification number on the tables of each diamond used in the Diamond Bullion, which will confirm the natural origin of each diamond sealed in the bullion. Once inscribed, the diamonds are transferred into the bullion by SDM and verified by IIDGR via a Master Report that confirms the bullion meets with SDiX's product specifications.
Diamond Bullion will be exclusively listed on the SDiX, the world's first fully electronic exchange for trading investment-grade diamonds. Investors will be able to obtain real-time pricing data via the SDiX website or via the SDM mobile app. The app will also provide a range of unique tools from diamond authentication, to trading functionality as well as other data services. Trades are recorded in the SDiX Electronic Central Depository, while digital ledger services will be available via blockchain in the future.
The units are available for order to global accredited and expert investors via broker members of SDiX and other SDM distribution partners progressively in the coming months, which will include wealth managers and private banks. After the order is placed, purchased and fulfilled, the Diamond Bullions can be sent directly to the buyer or stored in dedicated secure vaulting facilities at the Singapore Freeport and other secured vaults around the world operated by specialised logistic companies for SDiX, or nominated banks and brokers.
Jonathan Kendall, President, IIDGR, said: "We're delighted to be providing our diamond verification and proprietary inscription services for this exciting new initiative."
Alain Vandenborre, Founder and Executive Chairman of SDiX, and Director of SDM, said: "The unique inscription that IIDGR places on every diamond inside the Diamond Bullion allows all of the diamonds to be tracked and verified, providing investors with the highest level of confidence in this revolutionary new diamond investment product."
News Source: gjepc.org