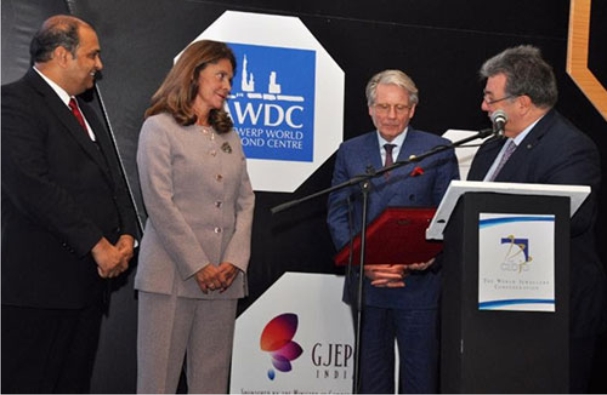 The 2018 CIBJO Congress concluded yesterday in Bogotá, Colombia, after three days of official business, which followed two days of steering committee meetings. It accomplished significant work in driving forward the business and social agendas of the jewellery and gemstone industries, and in particular preparing them for the marketplace of the years ahead, the organisation said.
Over the three days, meetings of the CIBJO Commissions related to different sectors discussed key issues related to their areas and perspectives to overcome current challenges.
"As industry leaders, our obligation is to ensure that our sector is able to evolve and adapt in accordance with changing business, technological, social and geopolitical conditions," said Dr. Cavalieri. "Staying in one place effectively means that you are moving backwards, and that is not acceptable. What we have done in Bogotá over the past few days is to examine what is happening around us, and to discuss and implement strategies that will equip our industry for the future."
The highlight of the final day was the address to the Congress by Colombia's Vice President, Marta Lucia Ramirez. Addressing the special session, which also was attended by about 200 members of the Chamber of Commerce of Bogotá's Jewellery Cluster, Ms. Ramirez outlined challenges facing Colombia in general and the business community specifically. She pointed to the growing importance and expansion of the Colombian jewellery sector, and paid tribute to representatives of the emerald and jewellery industries, who she said were leading the sector forward.
As already reported, another landmark event was the release of CIBJO's Responsible Souring Guidance, which is expected to serve as a reference for responsible sourcing practices developed and applied by industry organisations and commercial bodies worldwide, while taking into account the challenges of the global jewellery supply chains.
Disruptive technologies, particularly Blockchain technology, it's significance and possible impacts and applications, as well as the use of the social media as a means of marketing products and services in the jewellery industry, were also key issues in focus.
While the Pearl and Coral Commissions discussed environmental sustainability in relation to their sectors, responsible sourcing and supply chain projects were also in the limelight.
Among the other topics discussed at length were the recently revised guides of the U.S. Federal Trade Commission for diamonds, precious metals, coloured gemstones and pearls; means of separating professional opinions from measurable facts on gem grading reports; and simplified versions of the CIBJO Blue Books and other guidelines for members of the jewellery retail trade.
The venue of the next CIBJO Congress was also announced. It will be the Kingdom of Bahrain, and will be hosted by the Bahrain Institute for Pearls &Gemstones DANAT in November 2019.
Pic caption: CIBJO President Gaetano Cavalieri (far right) presenting a gift to Colombian Vice President Marta Lucia Ramirez (second from left). She is flanked by Pramod Kumar Agrawal (far left), Chairman of The Gem & Jewellery Export Promotion Council, India and Kenneth Scarratt, President of CIBJO's Pearl Commission.
News Source: gjepc.org