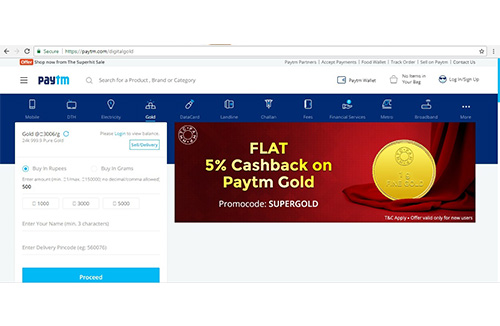 Consumers in small towns across India such as Kanchipuram, Dhanbad, 24 Paraganas, Burdawan, Godavari and Thiruvallur are the main purchasers of digital gold, an investment product that can be bought online through Paytm, India's payment bank cum digital wallet company, according to media reports.
The scheme, which was launched on Akshaya Tritiya, the popular and auspicious occasion for purchasing gold in India, has sold more than 100 kg of gold via transactions carried out by consumers spread over 6,000 pin codes. Krishna Hegde, senior vice-president, Paytm told the media that the opportunity to make small purchases from a website or App on a mobile phone has even proved attractive to consumers in rural India. The volume of transactions is said to be growing at almost 150% per month!
A consumer who makes a purchase (there is no minimum, and some of the micro-investments have even been for sums as low as Rs 10!) the amount is credited to his / her account and the physical gold is stored in a vault with the MMTC. The 3% GST applicable on the transaction is added to the cost. The tie up with one of India's largest metals trading companies gives consumers the added confidence that they are actually purchasing 24-carat gold with 99.9% purity.
The reports state that the average ticket size of a purchase is between Rs 1,000 and Rs 1,500, but the company official said that they are even targeting road side vendors who would like to make an investment of just Rs 1.
Consumers have the option of monetizing their gold by selling it back to MMTC – the amount will be credited online with a token convenience fee of Rs 10. They can also purchase gold coins and receive home delivery with a charge of Rs 600 per 10gm.
Buying jewellery with the gold in your account is also an option, the reports state. Paytm has partnered with some of the bigger jewellery chains so that a buyer can transfer an equivalent amount of gold from his/her Paytm account to the jeweller and buy jewellery after separately paying the making and any other charges. According to the reports, Paytm aims to have similar tie-ups with jewellers in at least 50 Indian cities and also offer smaller single-shop jewellers the chance to register directly on the Paytm website.
The digital gold product, it is hoped, will be the model for similar micro-payment methods to attract investors to other wealth management products, including mutual funds, equities, etc.
News Source: gjepc.org