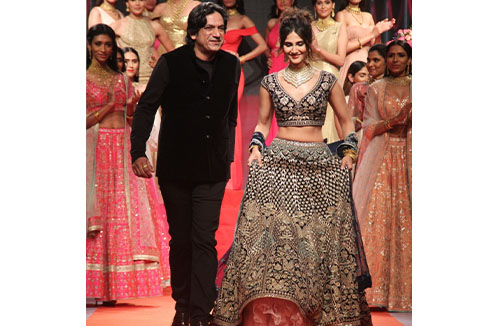 Following the special Inaugural Show presented by Nakshatra World, the rest of the first day of the 7th edition of the India International Jewellery Week (IIJW 2017) saw some spectacular presentations by well known names from the jewellery industry, CaratLane, Azva and PC Jewellers. The event, held on September 23-24, 2017 at St. Regis, Mumbai, was presented by The Gem and Jewellery Export Promotion Council (GJEPC), powered by GIA (Gemmological Institute of America); and co-partnered by Forevermark and Platinum Guild International.
CaratLane presented the second show of the day with a smorgasbord of collections beginning with the crisp, well-edited line of jewellery called 'Bombay Deco' which was a tribute to the architectural heritage of the city, and subsequently featuring a range of lines from the brand including Aaranya, Peacock, Butterfly, Lotus, Dhokra, Ikat, Uttarakshin, Sway and the Un-nostalgic Gold. There were a variety of styles, designs and options for functional and festive wear from designs inspired by forest flora, to delicate ornaments using enamel to tribal and ikat led designs, and had fun filled tassels in 18K gold with flowing chains and diamond drops. The show stopper was a unique entry with the very perky young girl, Aarya Joshi wearing multiple chains and a ring-cum-bracelet miming the song as the models rocked down the ramp.
Up next was Azva, known for its intricate craftsmanship and designs of contemporary jewellery inspired by the seven vows of Indian wedding traditions. The show highlighted a well edited range of 30 designs from eye-catching necklaces to breath-taking gorgeous chokers, and medallion sets to seven row Haars. Created from 22 kt for gold jewellery and 18 kt gold with diamond polkis, pearls, semi-precious gemstones and studded range the designs were finely handcrafted with contemporary designs and surface finishes.
Eight fresh clumps of fragrant flowers lined the stage leading down to the red carpeted ramp. To the melodious voice of super singer Rachel Varghese who sang with great feeling the ever popular Skyfall theme song, models in sensational gowns created by designer Swapnil Shinde, presented some exotic jewellery. There were gold chokers with imposing pendants, tiered collar, cocktail rings, diamond shaped long earrings, very interesting haath phool, the fan shaped pendant with the scaled necklace and a magnificent Raani Haar with multi-layered gold balls, paisley shaped earrings teamed with lacy rigid neck piece and fan shaped peacock inspired necklace were totally unique in concept.
Making a stunning entry to end the show was the gorgeous Bollywood star Vaani Kapoor, who looked absolutely breath-taking in a gold/diamond sweetheart shaped rigid necklace with triangular earrings, bangles and rings.
PC Jeweller Ltd. closed Day One with a grand final show with its wedding collection, Azva, its 'Flexia' brand of unique detachable jewellery for youthful trendsetters, and the glittering 'Swarn Dharohar' collections inspired by the mosaic of royal Rajasthan which was divided into three distinct segments – Gotta Patti, Blue Pottery and Pichwai, comprising ornaments for both women and men.
The former is a bridal line inspired by Jodha Bai and the regal Princess Diya Kumar and uses an interesting appliqué technique where the gotta is a strip of gold cloth in varying lengths which is woven on red or magenta pink with ornate Raani Haars, pearls, emeralds and precious stones as gorgeous centre pieces,.
The Blue Pottery line paid homage to the free spirited and modern life of the Banjara tribe of the state with cocktail rings, using enamel work was and multi-pronged bangles, pearl Raani Haar with enamelled centres, cute handbags, clutches and gold buttons and brooches. The last collection used the Seva theme based on different seasons with paintings to depict the moods.
Bringing the show to a crescendo was the very beautiful Dia Mirza who looked every inch a glorious bride with a shoulder-to-shoulder scalloped necklace, cocktail ring, long danglers and an elaborate ornate Maatha Patti. Taking a bow at the end of the show was the very dynamic designer of the collection Nupur Vasdev.
Pic caption: The presentation by Azva
News Source: gjepc.org