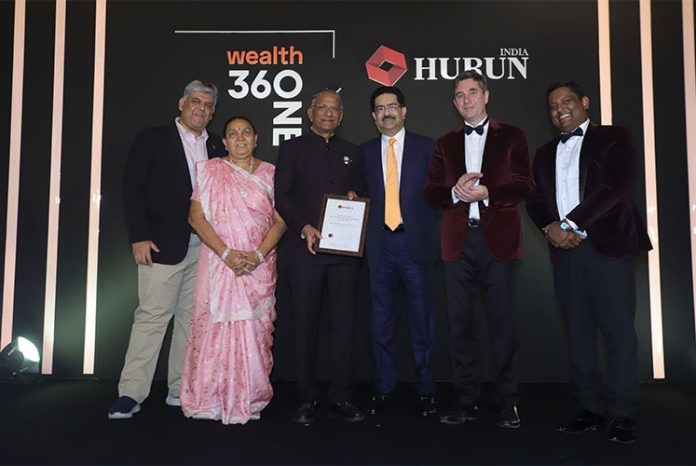 Shree Ramkrishna Exports Pvt. Ltd. (SRK), a global leader in the world of diamonds, was recognised as the 'Most Respected Family Business of the Year' as per 2022 Hurun Report Global. Govind Dholakia, the Founder-Chairman of SRK, was bestowed with the award on behalf of the company by Rupert Hoogewerf, Global Chairman of Hurun Report, to honour his long and illustrious contribution.
The 10th edition of the 'Hurun Most Respected Entrepreneurs Awards' and Gala Dinner organised on 2nd February at Taj Lands End, Mumbai was graced by various dignitaries like Kumar Mangalam Birla, Chairman of the Aditya Birla Group, as the Keynote Speaker; Ashwin Dani, Non-Executive Chairman of Asian Paints; Nadir Godrej, MD of Godrej Industries; Dr. Cyrus Poonawalla, Chairman and MD of Cyrus Poonawalla Group, amongst others. Some of the previous recipients of other Hurun awards include Adi Godrej, Dr. Cyrus S. Poonawalla, Nithin Kamath, Kris Gopalakrishnan and so on.
During his speech at the event, Govind Dholakia said, "We don't believe in life insurance policy, because for us, our family is our life insurance."
Hurun Report is the world's leading entrepreneurship platform focused on promoting some of the most amazing stories of entrepreneurship in India and China.
SRK, throughout its journey of six decades has been well known in the gems and jewellery industry and beyond not only for its diamonds and leadership in sustainability practices, but also for its workplace culture and ethics, which upholds family-like values and feelings.
The company not only addresses its people as "family members" and never as "employees", but also takes all its decisions keeping in mind the well-being of its people. Reportedly, during the recession of 2008 and the pandemic of 2020, not a single person was laid off from SRK and everyone was given their regular salary.
The company said despite being a family-business, there is never a complaint of nepotism, because even the family members of the management team have to undergo training to grow to their positions of responsibility. "We don't recruit employees; we recruit family members who will go the extra mile for the firm, as we go the extra mile for them," an SRK spokesperson said. Elaborating further, Govind Dholakia noted, "Our company has been made into a family; we haven't made our family into a company!"