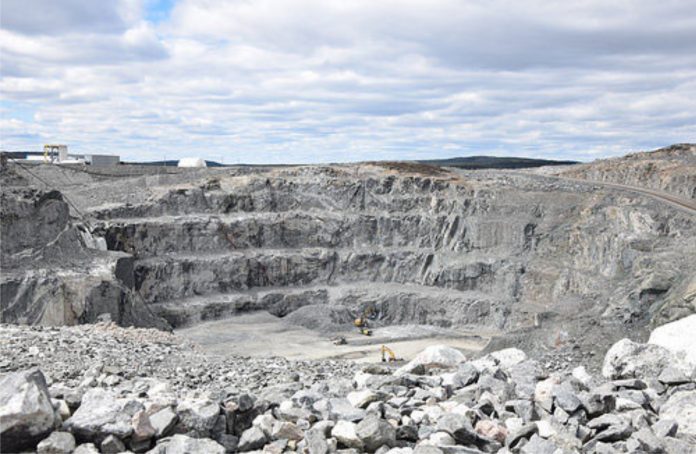 Stornoway Diamond Corporation, releasing its results for the quarter ended September 30, 2017, reported a strong production performance having exceeded planned diamond recovery and achieved a higher than plan grade.
The Company recovered 442,154 carats during the quarter from the processing of 506,381 tonnes of ore compared to a plan of 422,475 carats from 540,000 tonnes (at 87 carats per hundred tonnes, [cpht], compared to a plan of 78 cpht).
Stornoway reported diamond sales of 405,643 carats with gross proceeds of C$ 48.1 million in the quarter. An additional 32,989 carats were sold during the third quarter, it added, for which revenue will be realised in the fourth quarter as proceeds from the sale were not received prior to September 30, 2017.
It said that the average diamond pricing achieved at sale of US$ 95 per carat (C$ 119 per carat), compared to US$ 87 per carat in the second quarter and US$ 81 in the first quarter.
Underground mine development at the end of September comprised 1,206 meters, or 102% of plan, the Company reported.
On September 30, there was no excess diamond inventory other than normal course goods in progress, Stornoway reported, stating that it expects to conclude two additional tenders in the fourth quarter.
During the quarter, Stornoway incurred an extraordinary capital cost of C$ 22 million on account of plant modification measures centred on a new ore-waste sorting circuit, construction for which commenced in September. There was a net loss of C$ 3.1 million during the period.
At quarter end, cash, cash equivalents and short-term investments stood at C$ 52.6 million.
Matt Manson, president and CEO commented: "Strong production results in the third quarter were matched by continued good performance in cost management. Our average operating cost of $66.39 per carat compares favourably with an average sales price of $119 per carat, with a beat on carats produced and grade over our mine plan. This strong underlying operating result in our business is being achieved even as we continue our work to improve the quality of our diamond recoveries. To that end, construction of our new ore-waste sorting circuit is well in hand, with commissioning scheduled for the first quarter of 2018. Our pricing at sale is increasing quarter by quarter, although a correction at the end of the third quarter served to slow the rate of increase, and we foresee a flat outlook for the rest of the year. At quarter-end we reported another strong balance sheet of cash and available credit facilities, positioning us favourably to complete our capital programs in 2017 and the first half of 2018."
News Source: gjepc.org