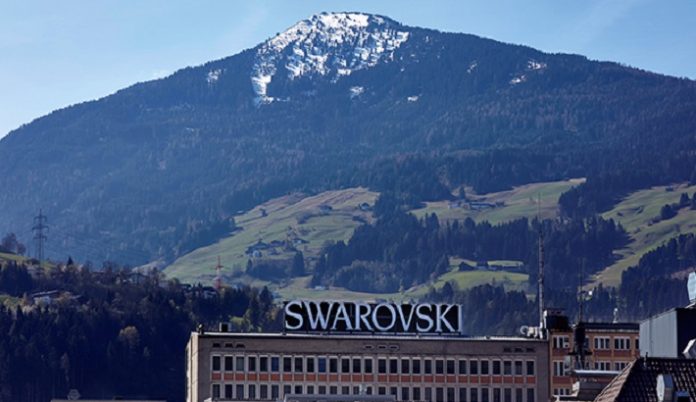 Swarovski presents its fifth sustainability report, detailing innovations across its supply chain and collaborations that are helping to change the fashion, jewelry and design industries for the better.
Daniel Swarovski, who founded Swarovski in 1895, was a visionary pioneer. In addition to creating a revolutionary method of crystal production, he instilled a culture of social responsibility and a commitment to sustainability that still guides the business today.
The 2019 Sustainability Report reaffirms Swarovski's commitment to understanding and responding to sustainability issues across its value chain. It details the many activities Swarovski has engaged with that align with the company's five strategic pillars: Women's Empowerment, Water Stewardship, Fair Partnerships, Conscious Design and Sustainable Innovation.
The report also highlights how Swarovski makes positive contributions within its own operations – increasing diversity and fostering inclusivity in the workplace as well as sourcing and manufacturing products responsibly. One major achievement is the launch of Swarovski's Positive Production Program in 2018. This program focuses on Swarovski-owned production centers to ensure the company's manufacturing is socially and environmentally responsible.
Here, are further notable achievements from the report relating to the five strategic pillars of Swarovski's sustainability strategy as well as its day-to-day operations:
Women's Empowerment
Swarovski is well placed to champion gender equality and shine a light on female empowerment: women make up the majority of Swarovski's customer base, while 77% of the company's workforce is female. In 2018, Swarovski partnered with Business for Social Responsibility (BSR) and the Dutch Ministry of Foreign Affairs to initiate the first multi-stakeholder exploration into the specific challenges that women across the jewelry supply chain face.
On International Women's Day (March 8, 2018) Swarovski expanded its global annual campaign: The Future is Equal. The report highlights how the campaign encouraged action to advance equality and diversity and celebrate the achievements of women. The 2018 campaign saw 40 global locations hosting activities that promoted action on equality, engaging approximately 3,500 of Swarovski employees.
Water Stewardship
Swarovski partnered with the Asia Disaster Preparedness Center (ADPC) in Thailand in 2018. The collaboration aims to strengthen the business' resilience to environmental hazards and allows Swarovski colleagues to help their communities prepare for the impacts of climate change – including flooding. Employees undertook capacity-building workshops and Community-Based Disaster Risk Management training.
Fair Partnerships
Swarovski's Responsible Sourcing Initiative (RSI) program commenced its environmental pilot in 2018; increasing the scope of supplier assessment to include an environment element. This allows Swarovski to understand the environmental challenges faced by the company's suppliers and supports Swarovski in establishing an environmental performance benchmark for suppliers.
Conscious Design
Over the last two years, Swarovski has run 22 Conscious Design projects across 11 design schools – including Parsons School of Design, Central Saint Martins and The Savannah College of Art and Design. Since its inception, the program has donated over six million upcycled crystals to design schools and emerging designers demonstrating Swarovski's longstanding commitment to the creative industry and young designers.
Sustainable Innovation
Swarovski has invested in new burners in its Wattens glass factory that use oxygen fuel technology. The burners melt crystal glass, significantly reducing energy consumption and carbon emissions in comparison to conventional air combustion.
Swarovski's Wattens production site uses the latest technology in crystal washing and drying machines. The newly installed processes use 20% less chemicals and recycle 90% of the heat produced during the water cycle. The drying equipment requires 30% less energy than the old drying system.
Operational Sustainability
From the materials it sources to the products it makes, Swarovski aims to make a positive contribution. Since 2010, Swarovski has reduced its total energy consumption by 29%, while 35% of energy use at Swarovski's manufacturing and production sites worldwide comes from renewable sources. In 2018, the business initiated a project that explores the environmental impacts of the raw ingredients that create Swarovski's signature crystal.
In the spring of 2018, Atelier Swarovski launched a landmark collection – its first fine jewelry collection using Fairtrade Gold. The range included both Swarovski Created Diamonds and created emeralds. As noted within the report, Atelier Swarovski is committed to using responsibly sourced gold in all its fine jewelry collections.
Swarovski aims to nurture an engaged, diverse workforce within an inclusive working environment. This was seen with its partnership with the NeuroLeadership Institute in 2018. The partnership offered 113 employees online training on unconscious bias, giving them the resources to remove bias from people and business decisions to help create a more inclusive and diverse workplace.
Nadja Swarovski, Member of the Swarovski Executive Board, commented: "We are pleased to unveil our 2019 Sustainability Report, which reflects Swarovski's longstanding commitments to people and planet – values first established by our founder Daniel Swarovski almost 125 years ago. This year's report details our company's ongoing efforts across Water Stewardship, Women's Empowerment, Fair Partnerships, Conscious Design, and Sustainable Innovation, and reaffirms our global strategies to shape a positive future for all."
News Source: swarovskigroup