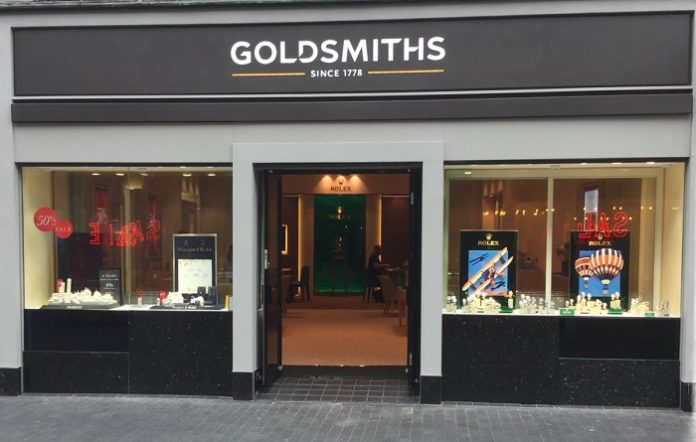 The Watches of Switzerland Group, formerly known as Aurum Holdings, has sold six of its Goldsmiths stores to T.H. Baker.
The group owns Watches of Switzerland, Goldsmiths, Mappin & Webb, Watchshop, The Watch Hut and The Watch Lab in the UK as well as a growing network of luxury jewellers
in the United States.
T.H. Baker describes itself as a family jeweller that can trace its roots back to 1888. It has 16 stores, including one remaining Pandora franchised store, a Swarovski store and two Green & Benz doors.
It has been rapidly unwinding its network of Pandora franchised stores. Little more than a year ago the group had a total of 32 doors: 13 T..H Baker, 18 Pandora and one Swarovski.
From the end of September, T.H. Baker will take ownership of the follow six Goldsmiths stores: Portsmouth, Hanley, Wolverhampton, Tamworth, Cambridge and Ipswich. They
will all be re-branded as T.H. Baker. None of these Goldsmiths are authorised to sell Rolex.
Craig Bolton, executive director of Goldsmiths, comments: "T.H. Baker is a family owned business with over 125 years' experience in the jewellery and watch industry. They operate more than 30 stores throughout Midlands and Southern England. As a company they have similar values to The Watches of Switzerland Group and the business
is run by a great team of people.
"Our colleagues from these stores have been informed of this development, and have been reassured that their employment will continue in the T.H. Baker stores. We will be working closely to support them through this transition process. This is an exciting opportunity for all of the above stores, which will give them a new level of support, focus and direction from the team at T.H. Baker.
"On behalf of the directors of The Watches of Switzerland Group I would like to thank all of our colleagues in these stores for their efforts over the past few years. We wish them every success for the future under T.H. Baker."
Phil Higgs, director of T.H. Baker, adds: "T.H. Baker is pleased to announce that we are expanding our retail business with the purchase of six Goldsmiths stores. The stores fit well with the profile of our business and we are looking forward to them becoming part of T.H. Baker."
News Source: professionaljeweller.com