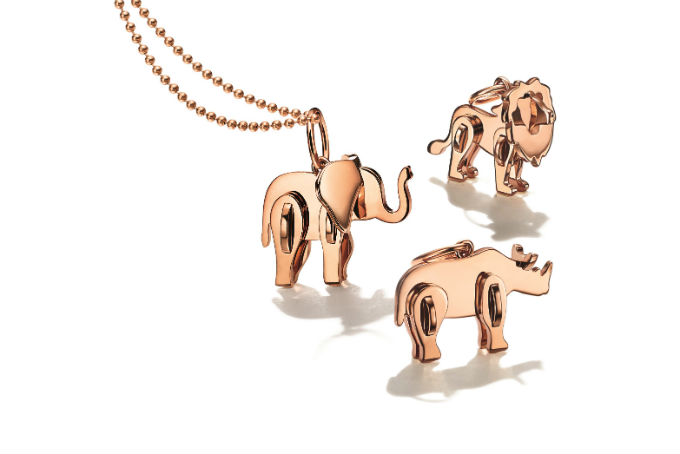 Tiffany & Co will start offering fresh additions to its "Save the Wild" jewellery collection come September.
Launched in 2017, the company said its environment-friendly initiative is part of an ongoing commitment to sustainability and conservation. In fact, 100 percent of profits from its Save the Wild Collection will be donated in support of projects to protect endangered species such as elephants, rhinos and lions. The jeweller is donating a total of US$4 million in support of wildlife conservation by January 2020.
Tiffany is particularly dedicated to the well-being of the African continent where it sources many of its diamonds and gemstones, and operates diamond cutting and polishing workshops.
"For over 180 years, Tiffany has been inspired by the beauty of the natural world. For this reason, we believe we have a moral imperative to protect it," said Anisa Kamadoli Costa, chief sustainability officer at Tiffany. "So we are especially thrilled to be able to lend our support to wildlife conservation efforts through the important work of the Wildlife Conservation Network."
From vocally opposing mines in sensitive ecosystems in the US to protecting the world's marine ecosystems and relocating black rhinos to safe havens in Botswana, Tiffany has been a longstanding supporter of wildlife conservation worldwide. In collaboration with the US Wildlife Trafficking Alliance in 2016, Tiffany joined a coalition of 16 companies who are committed to stopping the demand for illegal wildlife products.
Available in sterling silver and 18-karat rose gold, the newest Tiffany Save the Wild Collection charms can be purchased in stores and online in September. A special edition of an elephant diamond brooch will only be available at the Fifth Avenue flagship store.
News Source : jewellerynet.com