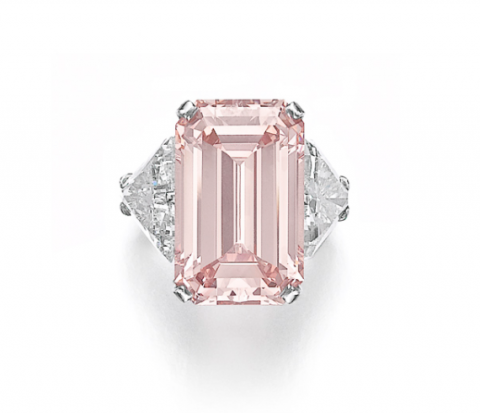 The Nov. 16 auction realized $136.4 million in sales and set four records
Sotheby's Magnificent and Noble Jewels Sale on Nov. 16 in Geneva resulted in $136.4 million in sales, making it the most successful Sotheby's sale of the season.
Three fancy colored diamonds each sold for over $15 million: a 17.07 ct. emerald-cut fancy intense pink diamond (pictured) sold for $20.8 million, the leading sale of the auction; an internally flawless 13.2 ct. fancy intense pink diamond sold for $16.2 million; and the Sky Blue Diamond, an 8.01 ct. fancy vivid blue, sold for $17.1 million.
"Tonight's result is a great finale to what has been yet another phenomenal year for jewelry in Geneva," said David Bennett, worldwide chairman of Sotheby's international jewelry division, in a statement. "Earlier this year, in May, we set a world record for any jewelry sale, and tonight the momentum continued, making 2016 the second record year in a row for Geneva. The very best colored diamonds of all hues remain highly desirable, but tonight, pink and blue were undoubtedly the hottest colors, accounting for many of the top prices this evening."
Four records were set during the auction. A fancy deep blue diamond ring set a record for a deep blue diamond of any kind, selling for $13.7 million; a fancy light blue stone, which sold for $2.1 million, also set a record for stones of that hue; and an important fancy light pink diamond sold for $7.5 million, setting a record for fancy light pink diamonds.
The fourth record was set by Sotheby's Geneva: The sale anointed the company with the highest annual jewelry total for any auction house in Switzerland. Sotheby's brought in $311.5 million in jewelry sales this year, up from its 2015 record of $300 million.
(Photo courtesy of Sotheby's) 
News Source : JCKOnline.com