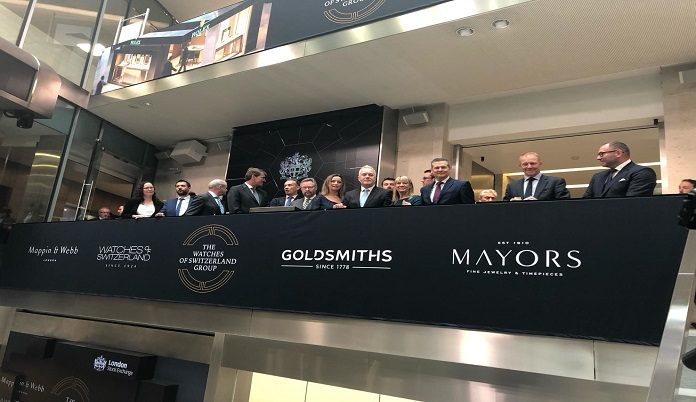 Watches of Switzerland made its IPO on the London Stock Exchange yesterday, with shares climbing over 15% within hours.
With an initial share price at 270p, the top end of the 250p-277p range it had targeted, shares went on to reach a peak of 315p on the group's LSE debut yesterday morning (May 30).
The listing means that 40% of the business is now owned by the public, with the group valued at around £650m.
Speaking exclusively to our sister publication WatchPro, Watches of Switzerland Group's chief executive officer said the IPO has gone even better than he expected.
Brian Duffy said on the morning of the Group's debut: "It's been great. We more or less went up to around 14 or 15 percent up and we've been as high as 17% up. So clearly it has been good, it is ahead of anything I was expecting for sure.
"We had a great reaction, we were way oversubscribed and we had the feedback from the beginning that our pricing was 'very reasonable' which was the term most frequently used so it was out there that we were not trying to push anything and we finished it, but the most difficult part of it all was last night trying to allocate to investors a proportion of what they had asked for and in any case all of it."
He added: "So yes, I did expect a positive demand but I did not expect it to be double digits."
Despite recent IPOs across other markets receiving somewhat of a negative reaction in recent weeks, Duffy always felt the luxury watch and jewellery market and the place Watches of Switzerland has in it would hold its own.
He revealed: "I was always confident and knew that we were one of a kind out there and know that luxury watches are unique and think that our positioning in the market makes us unique as well so I was confident no matter what was happening.
"Having said which, you would have ideally hoped for even better market conditions as there's been quite a lot of volatility over the past couple of weeks, further uncertainty over Brexit and whatever but is there ever a perfect time? I don't think so and clearly, it hasn't significantly impacted us."
Discussing the valuation and how it came to that, Duffy detailed yesterday morning that he was "very happy."
He continued: "It is more or less 14x our PE so I do think it is a fair valuation. You would argue that has got an element of discount which I think is right as a new entrant to the market, people have to get to know us so we were always very comfortable with that. I think it was a narrow range that we started with 250 to 277. We then narrowed that after a couple of steps to I think 263 to 275 and then we settled on 270."
Prior to the listing, it was expected that around £220m in net proceeds would be raised and a large majority of that would be used to pay down debts.
Mr. Duffy said the amount raised would be north of that figure and also confirmed around £155m would be used to help with debts, something he thinks is necessary for the new public space.
"I think it has actually turned out to be a bit more than that (£220m), I think Apollo said from the beginning that they would be prepared to go at something around 10% of their shares so it has gone at a little bit more than that. Apollo selling 15% of their stake approximately results in us having a 40% free float to the public out there owns 40% of the business now.
"The first use of that net proceeds will be used to pay down debts. We had a level of debt that is acceptable in a private ownership scenario but is clearly not the kind of level of debt you would carry in a public environment so £155m of what we raise just went to pay down debt and that is the biggest single thing that has happened to our financial structure overall. And the balance of what went on the market was just Apollo selling so there's just a change of shareholder," Duffy concluded.
News Source: professionaljeweller