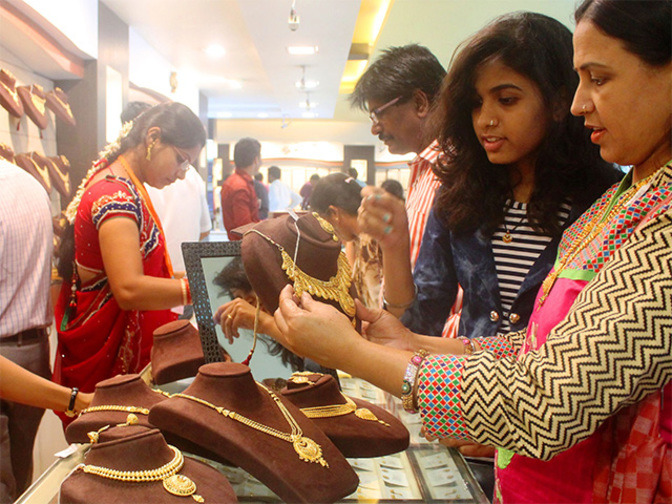 MUMBAI/BENGALURU: Demand for physical gold was lacklustre in top consumers India and China this week, while the lure of the metal remained stable in Singapore, but India's peak wedding season is expected to usher in renewed interest for bullion in coming weeks.
Gold is considered an essential part of weddings in India, second-biggest consumer of the metal in the world after China, and it is a popular gift on such occasions.
"The wedding season has started. In the next few weeks, there are many wedding dates, which will boost demand," said Kumar Jain, a Mumbai-based jeweller.
Dealers in India were charging a premium of up to $3 an ounce this week over official domestic prices, unchanged from last week. The domestic price includes a 10 per cent import tax.
"Gold imports by (jewellery) export houses have fallen sharply in the last few weeks. That's why the market is in premium, despite moderate demand," said a dealer with a private bank in Mumbai.
In October, India tightened gold import norms for jewellery exporters by restricting them from importing the yellow metal only for export purposes and not for selling in the domestic market.
Meanwhile, in China, the market for the precious metal remained quiet, with premiums of $5 to $9 an ounce being charged over benchmark rates, as against the $6.50 to $10 range in the previous week.
Benchmark spot gold was on track to register a small weekly gain, hovering around the $1,275.00 level as of 0919 GMT on Friday, but still below Thursday's mark of $1,284.10, highest in nearly two weeks.
"Dips below the $1,270 level (toward the beginning of the week) spurred some buying, but the upside, (around the $1,280 level) limited purchases," said Ronald Leung, chief dealer at Lee Cheong Gold Dealers in Hong Kong.
Premiums in Hong Kong remained more or less unchanged from last week, in the 60 cents to $1.20 range.
"Premiums are quite low, and except for periodic large sales, the market is quiet," said Joshua Rotbart, managing partner of J. Rotbart & Co in Hong Kong.
In Singapore, premiums rose to 70-90 cents from the 50 cents last week.
"There has been interest from two segments, the wholesalers and high net worth individuals, so it is still strong," said Loh Mun Chun, Director, Private Wealth at GoldSilver Central in Singapore.
"The wholesalers need to buy … to produce jewellery, especially with some spillover demand coming from the Diwali and Dhanterras festivals, while the high net worth individuals … buy to diversify their portfolio and they have the money."